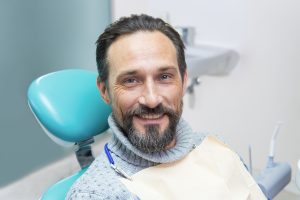 Imagine how much harder your job would be if you suddenly received no feedback – nothing from your coworkers, or your boss, or your customers. Feedback is also important when it comes to smile care. Sure, you can do a good job of caring for your smile by brushing and flossing, but you may not know when something is wrong until the problem starts to become serious. At our Prairie Village, KS dental office, we can perform thorough examinations that allow us to alert you to any possible oral health concerns. This can lead to earlier detection and treatment of cavities, which means the restorative dental work you need is less involved. Because your routine dental checkups also include thorough teeth cleanings, you can also rely on these visits to help you avoid trouble!
Oral Health Problems Can Be Caught In Early Stages
You may have a hard time knowing exactly when an oral health problem first begins. It may sound strange to think that you can let a cavity's development go unnoticed, but you might not know there is a problem with a tooth until that cavity has become advanced. In a situation like this, where a problem has been ignored, you could wind up in need of a root canal procedure to fully address the situation! Your dentist wants to help you avoid problems, or at the least put a stop to them before they have a chance to cause complications with your oral health.
Using Digital X-Rays To Spot Problems As They Form
Experience and training allow your dentist to recognize when your smile problems might call for professional treatment. With that said, even well-trained eyes can only look so closely at someone's teeth! In order to receive more detailed information about your oral health, we do use digital x-rays for more thorough reviews. These examinations can lead to the detection and treatment of tooth decay when a cavity has only just formed. At this point, your tooth can be properly restored with just a discreet dental filling.
Screening And Early Detection For Oral Cancer
At our practice, we are prepared to screen patients for any signs of oral cancer. This disease is a potentially serious threat, and early detection can be important for ensuring a successful treatment. While the goal is obviously to keep you free of any oral health problems, regular checks for oral cancer can be particularly important!
Count On Fantastic Preventive Care From Dr. Browne!
Dr. Browne is proud to make dedicated oral health services available to people in and around Prairie Village, KS! If you have any questions or concerns about the condition of your smile, if you are new to the area and want to find a dentist, or if you want to know how you can make cosmetic improvements to your teeth, we can help! To set up a visit with Dr. Browne, contact our office today at (913) 901-8585.