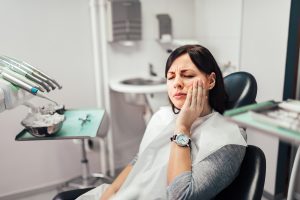 When you suffer a tooth injury, you may have more to worry about than just a noticeable chip or crack, or even the pain you feel. In cases where a tooth's inner chamber, or pulp, is exposed or harmed during an injury, a person can develop a harmful infection. To deal with this matter, you will need to undergo a root canal treatment. If nothing is done about the matter, you can wind up experiencing worsening discomfort, and you could suffer the loss of that tooth! At our Prairie Village, KS dental practice, we are ready to fully take care of you after a dental injury. In fact, we can even arrange emergency dental treatment if your injury requires urgent attention!
Isn't A Root Canal Supposed To Be A Cavity Treatment?
It is common for root canal treatments to address problems with tooth decay. It is not necessary in every case, but it is important to have this work done if your cavity allows bacteria to enter your pulp, and infect the living tissues within. With that said, a root canal is performed when there is endodontic trouble with a tooth, meaning there is an internal problem. Because an infection can result after dental trauma, this procedure is sometimes performed on an injured tooth.
Restoring Your Tooth After Treating Your Injury
When you visit our practice to discuss an injured tooth, we can provide you with modern restorative dental services that help you fully recover! The first step taken involves carefully studying your tooth to determine how bad the damage really is. With this done, we can determine what procedures, like a root canal treatment, may be called for. To protect your damaged tooth, and restore its ability to bite and chew, we can have a lifelike dental crown crafted and placed.
We Offer Care During Dental Emergencies
Sometimes, a dental injury is too serious to ignore, or "get around" to treating. If you need emergency dental work, our practice can help! We can work with you to arrange the appropriate care promptly, and see to it that your injured tooth is properly treated with minimal delays. Cutting out a frustrating waiting period means spending less time in pain, and having your smile restored more quickly!
Talk To Dr. Browne About Arranging A Root Canal For Your Injured Tooth!
If you have a serious tooth injury that requires a root canal treatment, Dr. Browne can help! Our practice is ready to provide restorative dental care, even when that care makes an emergency appointment necessary. If you have questions about the services we provide, or if you would like to make an appointment with us, contact our office today at (913) 901-8585.