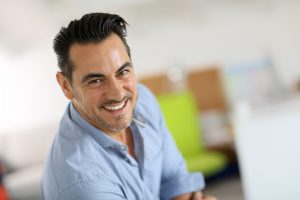 You might fear that when it comes to restorative dental work, you will be forced to sacrifice your smile for your oral health. People who worry about the effect that a treatment might have on their appearance can be alarmed because they imagine that a restoration will look out of place, and attract attention they would prefer that restoration not receive. You can be happy to know that when it comes to restorative dental work, your Prairie Village, KS dentist's office offers attractive fillings and dental crowns that expertly imitate your natural tooth structure. If you need a crown to protect an injured tooth, or one with a serious cavity, the treatment you receive can offer lasting support, while blending in naturally with the rest of your smile.
A Crown Can Offer Important, Long-Lasting Improvements
Dental crowns offer important support for a person who has an oral health issue. Part of their benefits is that they can make it possible for you to comfortably bite and chew, even if your tooth has become infected or damaged. They also keep a vulnerable tooth safe against future infections.
How Will Your Crown Look?
If you have a need for a dental crown, there are actually several options for materials that can be used. If the tooth's visibility when you smile and speak makes esthetics a point of consideration, an attractive porcelain or zirconia crown can be the right material for you. These types of crowns are able to imitate the look of your natural enamel, and they can even reflect light like a natural tooth would. If the tooth in question is out of sight, a more durable material can be recommended. Our practice offers metal crowns, as well as porcelain-fused-to-metal restorations which surround metal with a more attractive porcelain.
We Can Help You Keep On Top Of Your Oral Health Needs
With regular dental exams, it becomes easier for you to stay on top of your oral health needs, which means it becomes less likely you will have a problem that demands a dental crown. If your dentist finds something wrong with your tooth in the course of an exam, a dental filling can be placed before the matter worsens. Evaluations and dental cleanings also help you keep your smile safe against problems in the future, so you are able to avoid the need for restorative dental work!
Talk To Dr. Browne About Receiving A Custom Dental Crown
Patients who need protection from a dental crown can be excited to know that durable, lifelike crowns are available to them. Dr. Browne is able to supply you with an attractive restoration that serves to protect a tooth for many years, while also letting you maintain your natural smile. To learn more, or to plan your visit with Dr. Browne, contact our office today at (913) 901-8585.