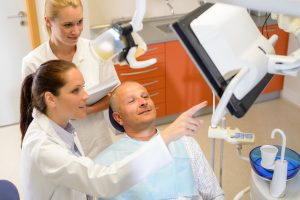 Your Prairie Village, KS dentist relies on advanced skills and experience to provide you with quality smile care during every routine dental checkup. With that said, there are real benefits to relying on advanced imaging technology for evaluations, as the right tools can reveal problems even the keenest eye can have trouble noticing. Our practice uses digital x-rays to thoroughly study your oral health. When problems are identified at earlier stages, the right restorative dental treatment can call for less work, and the preservation of more of your natural tooth structure!
Digital X-Rays Can Offer Greater Insights Into The Health Of Your Teeth
By using digital x-rays to study your teeth, your dentist provides patients with a number of exciting advantages. This technology yields useful images while producing significantly less radiation than past radiography technology, meaning the examination process is safer for you. You can also enjoy the convenience of studying these images on a chairside HD monitor. A collection of these images allow your dentist to track your long-term health, and they make it easier to find and diagnose troubling issues.
Catching Problems At An Earlier Stage Can Help You Avoid Complications
Root canal treatments can be performed safely, and with a real emphasis on making you comfortable during and after your time in the office. With that said, you can understandably prefer an approach to smile care that requires a less involved procedure to restore a tooth with a cavity! Thanks to the digital imaging technology available at your dentist's office, it becomes possible to recognize when decay has become a problem at an earlier stage, meaning your tooth can be repaired with a lifelike dental filling.
More Examples Of How You Can Benefit From Modern Dental Care
When you need oral health care from your dentist, you can recover from the experience in less time thanks to OraVerse, which restores feeling around (but not at) the area where your dental work took place. This means you can return to your daily life without having to wonder how the lingering effects of anesthesia will impact you. Your dentist can also offer modern care in the form of lifelike restorations, which are effective at offering long-term support for your appearance, and the health of a tooth.
Enjoy A Modern Dental Care Experience With Dr. Browne!
Enjoy access to modern dental treatment with Dr. Browne! Our Prairie Village, KS dental practice is ready to offer you and your family a better experience with oral health care by relying on a skilled team, as well as advanced technology. If you want to address a concern with your smile, or if you just want to make sure your teeth and gums are in good health, schedule an appointment! To learn more or to schedule your visit, contact our office today at (913) 901-8585.