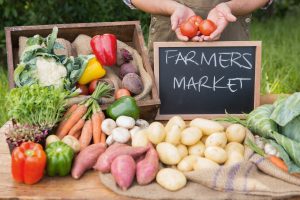 On Saturday, April 20, the farmers market in Overland Park will start up for the new season! Each Saturday between this date and November 16, families can head to the farmers market to find fresh, tasty produce, and many more specially produced items. There will also be classes to attend, live music to enjoy, and tasty food from local food trucks. The market encourages healthy eating, support for local businesses, and gives you a great way to spend a Saturday! The market will also run on Wednesdays from May 15 through September 15. Fresh vegetables can be a great addition to your meals, and they can help you keep up with a smile-friendly diet. You can also count on important smile support at every regular checkup at your Prairie Village, KS dentist's office!
When:
The farmers market in Overland Park will open up for the season on Saturday, April 20. The market will be in operation between the hours of 7 am until 1 pm.
Where:
The market is hosted at 7950 Marty Street, Overland Park, KS.
Cost:
You can attend the market at no cost, and meet with different vendors. Item prices are set by vendors.
Activities Include:
Your weekend trip to the farmers market can offer more than just access to fresh produce. You can join classes, hear live music, and frequent local food trucks during your visit!
For More Information:
For more information about this event, click here.
Schedule Your Next Dental Exam With Dr. Browne!
Dr. Browne is ready to help families in and around Prairie Village, KS who want to keep their teeth in great shape. Our practice can work with you to address any issues you have with your oral health, and we can provide cosmetic smile improvements! To learn more or to schedule a visit with Dr. Browne, contact our office today at (913) 901-8585.