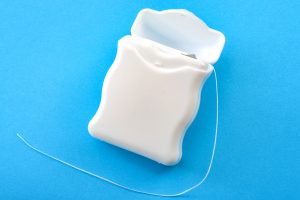 If you want to keep your teeth and gums in great shape, you need to have an effective strategy for dealing with oral bacteria. By brushing thoroughly, you can remove those harmful bacteria, and prevent the development of plaque and tartar. With that said, keep in mind that brushing should only be one part of a larger plan to prevent oral health troubles. If you want to make sure the spaces between your teeth are effectively cleaned, you also need to floss. This habit can ensure your next trip to your Prairie Village, KS dentist ends with positive feedback about the condition of your smile.
What Makes Flossing So Important For Your Oral Health?
Flossing does an important job, one that can be key to your long-term plans to maintain the health of your smile. A habit of flossing on a daily basis can ensure that the spaces between your teeth are clean. This step is important for your overall efforts to avoid cavities and gum disease, as your toothbrush is less effective at removing bacteria and food debris from these tight spaces.
Other Changes That Can Improve Your Ability To Protect Your Smile
Brushing at least two times a day, and making time to floss every day, can have long-term value. Simply put, your thorough cleaning habits can make it less likely you will need to undergo restorative dental work. However, you should look beyond your cleaning habits when you plan your overall oral care routine. If you are not monitoring your sugar intake, or being careful to resist sweets, you can make a cavity's development more likely. Drinking more water can also be important for you, as water keeps your hydrated, which helps you defend your smile with saliva. Water is also great as a substitute for sugary drinks.
How Healthy Is Your Smile? Your Dentist Can Let You Know At Your Next Checkup!
During a routine dental evaluation, your dentist can warn you about common problems, as well as potentially serious problems like oral cancer. Make sure you stay consistent with these visits. If you are doing an effective job at protecting your teeth and gums, you can have the assurance that your smile is healthy. If an issue does affect you, a checkup can lead to its discovery and prompt treatment.
Dr. Browne Can Help You Avoid Problems That Affect Your Smile
Dr. Browne is prepared to help Prairie Village, KS patients keep their teeth in great shape! Our practice is ready to work with you on providing quality preventive care. In addition to undergoing a professional cleaning and review, you can also receive insightful tips about improving your oral care routine. To learn more, or to arrange an appointment, contact our office today at (913) 901-8585.