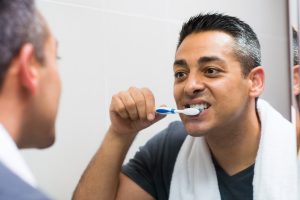 Have you grown concern over possible signs of tooth decay, or gum disease? Do you feel like you need to make changes to your oral health routine after needing restorative dental work in the recent past? If you are not consistent with your oral hygiene, or if you have a habit of indulging your sweet tooth, you may be putting yourself at risk for more dental issues than you realize. At home, make sure you stay persistent with brushing and flossing, and watch out for diet risks. With better habits, and continued preventive dental care from your Prairie Village, KS dentist, you can limit your chances of having future oral health problems.
Inconsistent Oral Care At Home Can Increase Your Cavity Risk
An oral care should be consistent as well as thorough – committing to one or the other can be insufficient, and leave you more prone to problems than you realize. Make sure you always give yourself enough time to properly clean your teeth before bed, and when you wake. If you are dragging yourself to bed at the point of exhaustion, you could be careless with cleaning your teeth, or more likely to skip this important task. Running to work with too little time to spare can also interfere with your routine. You should give yourself at least two minutes every time you brush, and be thorough with cleaning every area of your teeth. Flossing should take place each day, and you should make sure you move your string in a vertical direction.
Will Your Diet Choices Lead To A Cavity?
Are you making the wrong choices during meals or snacks? It can be hard to ignore all the warnings you have heard over time about sugar, and its potential to cause cavities. This is certainly something to be mindful of – if you are not controlling your sugar consumption, you can be more likely to have a need to see your dentist for treatment. You should also be aware that sticky products, and acidic items, can also be trouble for you.
How Your Dentist Helps You Keep Your Teeth Clean
Your dentist's office can see you for semiannual checkups that involve a careful review of your smile, and a thorough cleaning of your teeth. The process of clearing away tartar and plaque will help you lower your risk for cavities, as well as your risk for gum disease. You should be aware that while your oral hygiene habits at home are important, and effective, a professional cleaning can lead to a degree of support that surpasses what you can do on your own.
Dr. Browne Can Help You Maintain A Clean And Healthy Smile
Individuals in the Prairie Village, KS area, and all surrounding communities, can rely on quality support from Dr. Browne! To learn more or to schedule a visit, contact our office today at (913) 901-8585.