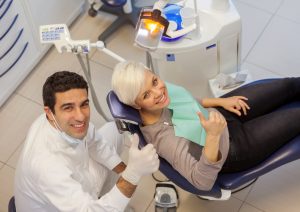 Protecting your teeth and gums against problems can help you maintain your appearance, and sustain better overall health. Unfortunately, even people who regularly maintain good oral health habits can still find themselves in need of professional dental treatment. Your Prairie Village, KS dentist can address matters with the proper restorative dental work when a cavity forms. If you have a problem with your gums, you can also count on support through an ultrasonic scaling. With an ultrasonic scaling, you can stop a problem with a periodontal infection before it worsens, and creates serious complications.
Your Untreated Gum Disease Can Lead To Surprising Consequences
When you have gingivitis, or a periodontal infection in its early stage, proper care can reverse the condition, and bring your gums back to good health. Unfortunately, treatment for your gums can become more difficult if your condition becomes more advanced. It can take more work to simply maintain your periodontal health. You also face a higher risk for tooth loss. Links have been found between gum disease and conditions like heart disease and diabetes, making it particularly worrying for your well-being.
Seeking Treatment In The Form Of An Ultrasonic Scaling
When care for periodontal troubles is required, your dentist can provide care through an ultrasonic scaling. An advanced ultrasonic tool can break apart the plaque and tartar below your gum line, which can make its removal easier. This can be performed to reverse your condition, and put an end to gingivitis. It can also be part of a larger plan to help you minimize the effects of a more severe infection, and its potential effects on your smile.
Taking Better Care Of Your Smile Can Help You Avoid Difficulties With Your Periodontal Health
If you keep up with your oral care routine, you can remove oral bacteria that gather on your gum line before an infection takes place. Fighting this buildup of harmful agents through regular brushing and flossing is important, but remember that your regular dental exams are also valuable to your smile's health. Every time you see your dentist, you can have your teeth expertly cleaned, and carefully studied for any evidence you might be in need of treatment.
Dr. Browne Can Help You Avoid Problems With Your Periodontal Health
If you are concerned about your periodontal health, you can reach out to Dr. Browne and address your concerns. When patients show signs of gum disease, an ultrasonic scaling can offer a modern, more comfortable approach to fixing the issue. Our practice is ready to address a variety of dental matters for individuals in and around Prairie Village, KS. To learn more, or to plan your visit with Dr. Browne, contact our office today at (913) 901-8585.