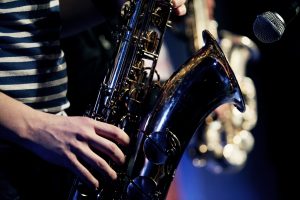 You and your family can enjoy an abundance of terrific music when you attend the Prairie Village JazzFest! This year's festival is being held on September 8, and will include performances from a range of jazz artists that will last throughout the day, with concerts starting in the afternoon, and extending into the evening. The Prairie Village JazzFest event will also welcome art vendors, and provide plenty of food, and refreshments. This is a great event for jazz and music lovers, as well as a fun outing for Prairie Village families. Your Prairie Village, KS dentist's office is proud to be part of a community that provides fun outings, and we are proud to offer dedicated oral health support to families in and around the area.
When:
The Prairie Village JazzFest is taking place on Saturday, September 8. The first performers will take the stage at 3 pm, and the final concert will begin at 9 pm.
Where:
The festival is being held at Harmon Park, which is located at 77th and Mission Road.
Cost:
The cost to enter the festival is $5, with free admission for visitors under the age of 18.
Activities Include:
You can stretch out on the lawn at Harmon Park and enjoy some terrific live jazz performances, while also checking out art from various artists, and enjoying food and beverages.
For More Information:
For more information about this event, click here.
Schedule Your Next Dental Appointment With Dr. Browne!
When you come in for routine dental care with Robert M Browne, DDS, you can look forward to dedicated oral health care in a modern, supportive environment. To learn more, or to schedule a visit with Dr. Browne, contact our office today at (913) 901-8585.