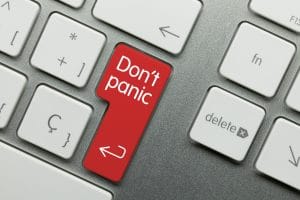 When something is wrong, one of the easiest ways to react is with sheer panic! Oh no, you think to yourself! Your tooth hurts, your tongue looks funny, you cut your gum tissue, or you dislodged a tooth. Any and all changes or sensations that are counter to a healthy feeling smile can throw you into a tizzy. We understand, of course. It's a natural response to something that suggests you've got an injury or severe issue occurring. However, it's not necessary. Why not? Well, because we offer emergency dental visits, of course.
When Something Feels Really Wrong
We know that you might feel embarrassed calling us for an emergency dental visit because something feels wrong. Maybe you cannot even quite explain it but you just don't feel right. When this happens, we say, go ahead and call. Describe your sensations. While we might not see you quite as quickly as we would someone with a broken tooth, we can most definitely schedule you in for the same day.
When Something Obvious Is Wrong
Did your tooth get knocked out? If so, there's no question about it. You used to have a tooth where it belonged. Now, you don't. Again, no need to panic. Either you'll bring us the tooth and we can save it or we'll protect the open socket and then make plans to replace your tooth. Panicking will not help. Contacting us to set up an emergency dental visit will help!
When You Notice A Change
Maybe your gums look different. You see a sore that wasn't there before. You feel a bit of a lump. You hurt. If it's urgent, call us. Don't panic. We can see you for a same day emergency dental visit or can talk with you about the earliest and best time for you to come in.
Call Us For Dental Help Instead Of Panicking
Never forget that we offer emergency dental services. When you're in need of answers and care for your smile, we are here! Learn more by scheduling a visit in Prairie Village, KS by calling Robert M Browne, DDS at (913) 901-8585.