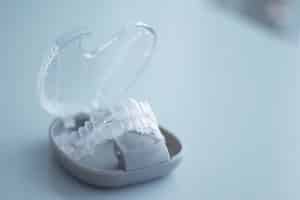 Do you have an uneven smile? If you have teeth that crowd or overlap, then you may have a higher risk of tooth decay, gum disease, and even jaw joint disorders, such as TMJ disorder and bruxism. Fortunately, we can help correct the issue with a unique orthodontic treatment, MTM aligners.
Frequently Asked Questions About MTM® Aligners
Question: How do they differ from braces?
Answer: Braces involve placing metal brackets onto the front of the teeth and connecting them with an arch wire. The dentist then adjusts the tension in the wire to reposition the teeth. With the Minor Tooth Movement system, we create a series of plastic aligners that patients wear. Each aligner set moves the teeth a little more as you approach your optimal smile.
Question: How long does treatment last?
Answer: Treatment actually varies depending in several factors, including age and extent of misalignment. However, since the MTM system is meant to address more minor misalignment treatment often takes as little as three to six months.
Question: What benefits do they offer over metal braces?
Answer: First, the aligners are much more comfortable. Second, they are clear and practically invisible when worn. Third, they can be removed. This means you can eat as you did prior to treatment and don't need to avoid certain foods. Yu can also have an easier time of brushing and flossing your teeth, keeping your smile healthy bright as the treatment progresses.
Question: Do I need to wear them every day?
Answer: Yes. To see the results you want in the timeframe the dentist recommended then you need to wear the aligners between 20 and 23 hours a day. You can remove them for meals, brushing/flossing teeth, or for special occasions, otherwise be sure you wear them frequently. If you have any questions about our clear orthodontics, then please contact our office today.
Do You Want to Learn More About Our Aligners?
We can help you achieve a more even and beautiful smile with clear aligners. Our staff can help. Contact us at our local Prairie Village, KS office today at 913-901-8345.