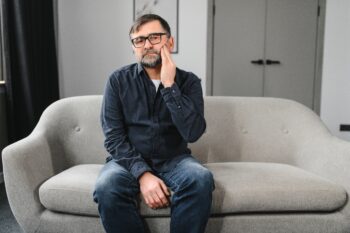 If your dentist recommends extracting one of your teeth, you may initially feel alarmed. While it is completely normal to desire keeping as many of your natural teeth as possible, a tooth extraction is a safe procedure that treats particular dental injuries. Performing a reliable tooth extraction can provide more of a benefit to the overall health of your mouth than maintaining an injured tooth in place. You may have symptoms of decay that are too advanced to treat with a more conservative solution and cause consistent pain left untreated. This procedure is often the first step in providing a restorative prosthetic that returns a comfortable bite and the appearance of a full set of healthy teeth. For whatever reason your tooth requires extraction, your Prairie Village, KS dentist provides a comfortable environment to perform removal and then design a replacement. Our team has years of experience helping you fix your bite after tooth removal!
When We Must Remove Your Tooth
For teeth that do not have enough healthy material to support a dental crown or dental filling, fully extracting your tooth can treat pain and help remove infection. This can be the result of tooth decay that has progressed far enough without treatment. If you suffer from periodontal disease, infection of the gums erodes away the connective tissues that hold your teeth in place. Sometimes this condition necessitates full removal as teeth become too unstable to securely bite. For adults that have a remaining baby tooth, an extraction can provide room for their permanent teeth to properly fit. Know that your dentist will only suggest removal when there is no better way to preserve your tooth. This means that extraction helps you recover from dental injury and allows you to plan a restoration to regain function of your bite.
Replacing Your Missing Tooth With Prosthetic Restoration
After we remove your tooth, we will discuss the options available to return your full smile. Certain patients enjoy the placement of a dental implant that allows for a prosthesis above your gumline. This solution inserts a titanium post directly into your jawbone. As you heal over the following months, your oral tissues fuse to the post and secure it in your jaw for years to follow. We can then attach a dental crown that mimics the shape and shade of your natural tooth.
Other patients may benefit from the placement of a dental bridge. This solution covers the gap in your smile by attaching to crowns placed on neighboring teeth. This prosthetic can even replace multiple lost teeth at the same time!
Talk To Your Prairie Village, KS Dentist About The Benefits Of Extracting An Injured Tooth
Removing an injured tooth treats your pain and allows for the planning of a full restoration. For more information and to schedule a visit, call your Prairie Village, KS dentist's office today at 913-901-8585.