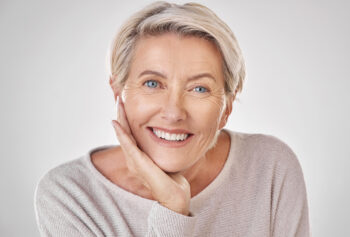 Are your teeth as straight as you would like them to be? Deciding to begin orthodontic treatment requires exploring all of the services available to help. With proper care, you can improve the overall quality of your bite and gain a friendly looking smile at the same time. Issues with poor spacing of your teeth can happen at any age, and older patients can sometimes feel hesitant to seek out treatment. Adults may feel embarrassed at the thought of traditional metal braces causing an unwanted distraction in the workplace or their private lives. Fortunately, a solution exists that can correct dental misalignment without garnering attention to its presence!
For these patients, Orthodontic Clear Aligners provide a discreet alternative to bracket-and-wire metal braces for straightening your teeth. Using a series of BPA-free plastic trays, this treatment brings your smile into position without others noticing. Your Prairie Village, KS dentist can examine the extent of your spacing issues and determine if you are a suitable candidate for this smile enhancing service. This method of orthodontic care allows you to reveal the results of straighter teeth on your own terms!
Clear Aligners Improve Your Oral Health
Orthodontic Clear Aligners can provide a great benefit beyond enhancing the beauty of your smile. When you have an issue with your alignment such as crowding, your teeth can be much more difficult to properly clean. Proper alignment can help prevent problems with gum disease, plaque buildup, and cavity formation that arise when you are unable to practice a sufficient oral hygiene regimen. By taking advantage of clear aligner therapy, you can more easily clean the surfaces of your teeth at home and present a healthier smile at your routine examinations.
A Custom Design For Every Smile
When you decide to correct your misalignment, we will conduct a custom examination of your spacing issues and provide guidance on which appliance type best suits your condition. If you are a candidate for Orthodontic Clear Aligners, we will provide multiple plastic trays that progressively shift your teeth into proper alignment. The trays simply attach to each row of teeth and will be worn throughout the majority of your day. Success of your treatment corresponds with your adherence to this schedule, but the appliance may be removed for brief periods at mealtime and when brushing and flossing your teeth. As the treatment closes spacing gaps and turns crooked teeth into correct position, you will enjoy a lovely grin and a much more even bite.
Call Your Prairie Village, KS Dentist To Discuss Treatment With Orthodontic Clear Aligners!
Clear aligners allow you to improve gaps in your smile without alerting others to your treatment. Orthodontic therapy can benefit your overall oral health in addition to improving your appearance. For more information and to schedule a consultation, call your Prairie Village, KS dentist's office today at 913-901-8585.