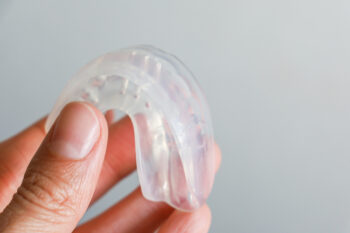 Most of us practice a daily oral hygiene routine that includes brushing and flossing, but what can we do to care for our teeth when we sleep? For those who suffer problems with nighttime teeth grinding, otherwise known as bruxism, serious health problems can develop without you even knowing. When not treated, this habit can cause you to wake up each morning with pain in the muscles of your face and jaw. As the habit continues, the enamel of your teeth wear down and reduces the appearance and function of your smile.
While it is hard to know what goes on while you are sleeping, visiting your Prairie Village, KS dentist can provide the answer. We can inspect your bite for the signs of bruxism and offer intervening treatment to prevent future damage. The wearing of an oral guard at night can relieve stress and tension while preventing wear and tear from grinding. We can also discuss treatment options to return the appearance and function of your teeth.
What Causes Teeth Grinding?
There are various causes of chronic grinding and clenching of teeth and discovering them can lead you to relief. Experiencing high levels of stress can cause grinding at night, so seeking relaxation may help. Factors that upset the balance of your bite can contribute as well. These include trauma to the face or jaw, tooth loss, misalignment, TMJ syndrome, and problems with the development of the jaw itself. When we evaluate your condition, we will diagnose the cause and severity of your grinding habit. We can then provide appropriate care, which may include the use of an oral guard.
Detecting Bruxism At Home
If you suspect grinding of your teeth at night, ask a family member to observe you while you are asleep. They can inform you if you clench and grind your jaw. You should also monitor signs that occur when you wake up. Waking up with a headache, pain in the face or jaw, and sensitive teeth are all possible signs of bruxism. Let us know if you detect these symptoms so we may begin treatment.
Wearing An Oral Guard
We can provide a custom-designed appliance to prevent the grinding of your teeth. Worn at night, this BPA-free solution also relieves stress in the muscles of your face leading you to wake up feeling more refreshed. They are easy to clean and can also aid in easing TMJ pain from a misaligned jaw by gently shifting your jaw into place. While an oral guard can prevent wear and tear to your teeth, cosmetic solutions can return the appearance of damaged structures.
Talk To Your Prairie Village, KS Dentist About Treating Teeth Grinding
By addressing your bruxism with a quality oral appliance, we can help avoid serious dental damage and relieve stress in your jaw. For more information about this problem or others like TMJ syndrome, contact your Prairie Village, KS dentist's office at 913-901-8585.