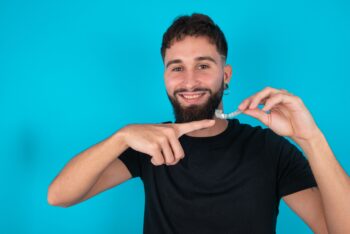 When your teeth are closer together than they should be, certain unwanted cosmetic issues can hurt your smile. Crowding causes teeth to look uneven, with some jutting out while others appear recessed. Unfortunately, this is not just a problem for how a person looks, as it can also create difficulties for your bite function and ability to maintain your oral hygiene. Your Prairie Village, KS dentist can provide an effective treatment solution, one that provides results without the difficulties with care that are associated with metal braces. Orthodontic Clear Aligners are both clear and removable, which means they will not alter your smile like traditional appliances or create issues for you when you eat and clean your teeth.
Teeth That Appear Uneven And Crowded Can Be A Source Of Embarrassment
A smile with teeth that are too close together can be one that is harder to show off. Crowding can have the effect of making your teeth look jagged and uneven, it can take away from smile symmetry, and it can be responsible for teeth that seem to stick too far forward or are too far back. These cosmetic issues are a potentially significant source of embarrassment, though this is not all that you have to worry about when it comes to alignment problems. The good news is that a discreet answer to the problem is available, one that can take care of your concerns about crowding while making the treatment experience easier than you anticipate.
Using Orthodontic Clear Aligners To Improve A Poorly Spaced Smile
By using Orthodontic Clear Aligners to fix problems with your smile, you can make corrections to problems with crowding that have taken away your confidence. These appliances will be custom-made for you so that they have the proper fit and encourage the right corrective movements. Over time, you will rely each one in your set to move your teeth closer to their appropriate positions. All of them are made to be easily removed, which means you will not have concerns over problems with eating or caring for your smile by brushing and flossing.
Fixing Crowding Issues Can Improve Your Oral Health Along With Your Smile
By taking on problems with your crowding, you can effectively improve your smile. You can also lower your risk for TMJ disorder and other threats. This is because straightened teeth can be both better for sustaining a uniform bite function and easier to keep clean when you care for them.
Talk To Your Prairie Village, KS Dentist About Fixing Teeth That Appear Crowded
If your teeth are too close together, there is a solution. Our practice can provide the right results with a set of Orthodontic Clear Aligners that gradually move teeth closer to their appropriate positions. For more information on this and other services that are available to you, contact our Prairie Village, KS dentist's office today at 913-901-8585.