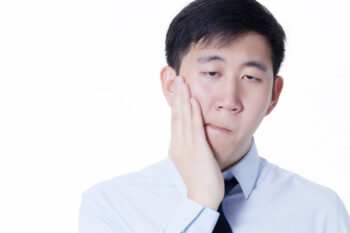 After you crack your tooth, it can be difficult to focus on anything beyond the injury and your need for care. Physical damage in this form can lead to difficulties with your appearance and bite function, and it can make you vulnerable to more oral health issues until you undergo treatment. That treatment can be provided promptly when you are a patient at our Prairie Village, KS dentist's office, as we make emergency dental services available to patients. Giving access to patients during dental emergencies can help them avoid complications and ensure they spend less time worried over their health and appearance.
How Alarmed Should You Be By A Cracked Tooth?
Even if the damage does not feel serious in the moment, you should be concerned enough about a cracked tooth to seek timely care. Ignoring this problem can be consequential for multiple reasons. One immediate issue can be that your smile looks less attractive. It can also be more difficult for you to bite and chew in a way that feels comfortable. What you should also know is that over time your tooth can be more vulnerable to damage as well as infection!
Booking An Emergency Dental Procedure To Have Physical Trauma Addressed
By booking an emergency dental procedure, you can make sure something like a cracked tooth receives prompt attention and enjoys care before there are complications. During the review, Dr. Browne will assess the full treatment needs of the tooth. In some cases, that can include root canal therapy, which addresses problems within the tooth structure. A more significant injury can require this and/or the placement of a dental crown. That being said, there are times when a cosmetic dental procedure can be all that it takes to put issues with your cracked enamel behind you. By taking this approach, we can produce positive results while providing a more conservative approach to care.
What Can Dental Work Do For Your Smile?
Different types of dental work for injuries can produce results that let you bite, chew, speak, and smile with confidence. With both our restorative services and our cosmetic treatments, we can offer protection that still preserves your appearance. Cosmetic treatments can do this with veneers, thin shells that only need to cover the front surfaces of teeth, while restorative services can offer improvements with dental crowns that are made to match the appearance of your healthy enamel.
Talk To Your Prairie Village, KS Dentist About Caring For Your Cracked Tooth
A cracked tooth is not the sort of problem that you can take lightly. Fortunately, there are timely services are practices can offer to help when an injury takes place. If you would like to find out more about how we can support you, contact our Prairie Village, KS dentist's office today at 913-901-8585.