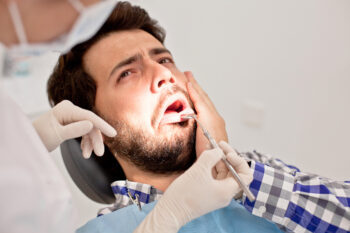 When cavities remain untreated, they continue to grow. That growth over time can lead to serious consequences for your health and comfort, as you can eventually find yourself in need of help because of an infected tooth! Infections occur when decay reaches a point where bacteria can infiltrate your pulp and create problems with living tissues. You can also experience this kind of discomfort when you experience an injury that results in internal problems. While this problem can be a painful and worrying one, it is also one that you can have treated promptly. Our Prairie Village, KS dentist's office is here to help when you need urgent dental work for a possible infection.
An Infection Can Cause Serious Discomfort
When you have a tooth infection, it can be difficult to ignore the feelings of sensitivity and discomfort. In fact, you may have a difficult time going about your typical daily routine because you feel so much discomfort from this dental problem! The good news is that when this kind of problem has you concerned, you can turn to your dentist for timely support in the form of an emergency oral health appointment. At that appointment, we can provide a review to confirm that you need treatment for an infected tooth, and from there we can take care to stop trouble and provide a restoration!
Seeking Emergency Treatment For A Problem With An Infected Tooth
An emergency dental appointment can be booked when you are concerned about significant discomfort or damage to your tooth structure. At your appointment, Dr. Browne will provide a review to determine what kind of care is required to resolve your issue and preserve your oral health. An infection calls for root canal treatment, a procedure that addresses trouble within your pulp. The procedure can be important to preserving your dental health, as it can stop active problems with discomfort, prevent the further spread of decay, and help you maintain your complete smile. After this service is provided, we can make sure that your tooth has long-term support with the appropriate restoration!
Restoring Your Tooth After Undergoing A Root Canal
After your root canal is performed, your tooth will require lasting protection. This support can be provided with a custom-made dental crown. Your options for treatment with crowns will include work with materials that imitate healthy enamel. Crowns produced with zirconia and porcelain offer lifelike appearances as well as functional support!
Count On Your Prairie Village, KS Dentist For Treatment During A Dental Emergency!
A problem with a possible tooth infection can be difficult to ignore, and it can require attention on short notice to prevent complications. You can count on prompt support at our practice even when you need emergency treatment! If you would like to find out more, contact our Prairie Village, KS dentist's office today at 913-901-8585.