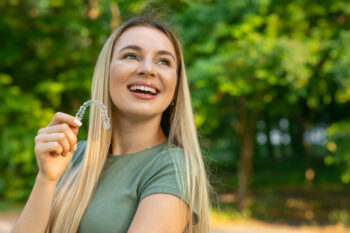 When you make the choice to fix problems with the way your teeth are spaced, you can enjoy a surprisingly easy approach to treatment. This is because your Prairie Village, KS dentist's office can provide Orthodontic Clear Aligners to make fixes to your appearance. Through the use of these appliances, you can close gaps, straighten out teeth that are too close to each other, and generally make your smile more attractive. Using your aligners can be easier than you anticipate, as they are easy to put in place and remove, and they will not have to be in your way when you need to eat or clean your teeth. When they are in place, their clear design makes it difficult for people to notice them, so you will not have to worry over their impact on how you look!
What You Gain From Using Orthodontic Clear Aligners
Orthodontic work from metal braces and clear aligners both provide opportunities to fix embarrassing spacing flaws, which can lead to welcome changes in your appearance. What they can also offer are changes that benefit your oral health, as your bite function can improve when your teeth are straightened. You can discover that with clear aligners, you enjoy these benefits while also having an easier time committing to your corrective work. Your appliances will not stand out and attract unwanted attention, and they will be easy to remove whenever you need to eat or clean your teeth!
When Your Corrective Work Begins
Your corrective work will begin after a careful evaluation of your teeth and oral structures, which produces information needed to provide personalized Orthodontic Clear Aligners. You will gain a set of aligners, with each one providing successive movements to help you correct issues with spacing and overlaps while generally changing your smile for the better. You can find that you have little difficulty keeping up with your dietary habits and oral hygiene routine, as your aligners will be easy to remove.
Enjoying Life After Your Procedure Concludes
After you complete treatment with clear aligners, you can enjoy a more attractive smile as well as a better bite function, which lowers your risk for TMJ disorder. Another benefit is that teeth that overlapped will be easier to keep clean, as portions of them are no longer partly covered and harder to reach. During your regular dental exams, Dr. Browne can help you sustain your straighter, more attractive smile.
Talk To Your Prairie Village, KS Dentist About Orthodontic Clear Aligners
Through the use of Orthodontic Clear Aligners, you can take on issues with your appearance that have made you self-conscious about how you look. To find out more about the benefits of treatment, contact our Prairie Village, KS dentist's office today at 913-901-8585.