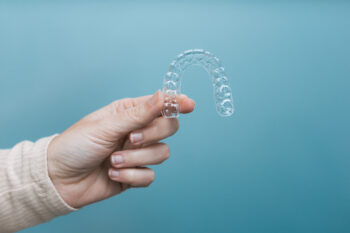 How much confidence do you have in your smile? If you have problems with poor teeth spacing, you can have doubts about your general appearance. Unfortunately, this is a problem people may be hesitant to treat, because they assume treatment will take the form of conspicuous metal braces. What you can find is that this is not your only option, as you can instead look into clear aligner treatment. At our Prairie Village, KS dentist's office, we can offer care in the form of a set of appliances that are hard to see and easy to remove. Because of this, you can enjoy successful care for gaps and overlaps between teeth without worrying about how your procedure will affect your daily life!
Are You Tired Of Letting Doubts About Your Smile Hurt Your Overall Confidence?
The doubts you feel about your smile can be difficult to shake when your teeth are not properly spaced. Alignment flaws can leave you with an asymmetrical smile, and they can also cause gaps and overlaps to be present, which can further disrupt how you look. The good news is that while metal braces are an effective form of care, they are not your only option. You can also explore the advantages to care with a set of clear aligners. By doing so, you can pursue care that results in a straightened smile, but you can do so without worrying over the impact that your aligners will have on your daily life.
Planning Treatment With Orthodontic Clear Aligners
Once you begin care with clear aligners, you can feel impressed by how little you have to change about your daily activities. The aligners are easy to remove, so they will not be in your way when you want to eat or clean your teeth. When they are in place, they are difficult to notice thanks to their clear design. As a result, you can feel more confident throughout your time fixing problems with teeth spacing. To stay on track with your adjustment, make sure you keep your aligner in place throughout the day so that your teeth are continually encouraged to shift into their appropriate positions.
We Can Provide Information On Different Cosmetic Services That You Can Enjoy
There are different cosmetic dental services that we can recommend to our patients based on their needs and concerns. For those who want to do something about more than just poor spacing, we can offer results in the form of porcelain veneers, which can make many beneficial changes to a smile. These restorations can address discoloration, dental damage, concerns about spacing, and even problems with tooth shape and size!
Talk To Your Prairie Village, KS Dentist About Clear Aligner Treatment!
For more information on the benefits of clear aligners for treating poor teeth spacing, contact our Prairie Village, KS dentist's office today at 913-901-8585.