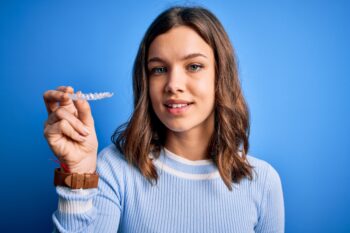 When there is a gap between a person's smile, it can be a source of embarrassment and unwanted attention. It can also be a sign that orthodontic work is needed, though people are sometimes wary of what that will involve. If you are someone who assumes that they will have to depend on metal braces that are fixed in place, it can be difficult for you to comfortably agree to treatment. What you should know is that there are other approaches that are helpful. At our Prairie Village, KS dentist's office, we can offer the right support in the form of Orthodontic Clear Aligners. These appliances guide teeth while not creating a distracting issue with their appearance, and they are easy to remove at times when they might be in your way!
Can A Discreet Orthodontic Treatment Really Help Me?
If you want to take care of an embarrassing problem with teeth spacing, can you really trust the work to removable aligners? Their appeal as an alternative to metal braces can be easy to recognize. While metal braces have to be fixed in place, clear aligners are removable. It is hard for people to notice that removable aligners are in place thanks to their see-through design, whereas metal braces are difficult to overlook. For many people, removable appliances will prove effective at treatment, which means they can serve as a welcome alternative to traditional orthodontic work!
Using Orthodontic Clear Aligners To Fix A Gap In Your Smile
A set of clear aligners will be prepared for you after we perform an evaluation of your teeth and oral structures. In performing this review, we will be able to see what adjustments need to be made as well as what shape and size the appliances you receive should be. Once your aligners are ready, you will wear each for a designated length of time. They are easy to remove, so they will not be in your way when you eat or clean your teeth. As you move from one to the next, you can see successive changes that lead to the closures of gaps, the fixing of overlaps, and the general improvement of the way you look!
Exploring Other Cosmetic Treatment Options To Improve Your Appearance
You have options to explore if you want to discuss cosmetic dentistry and its benefits. What you can find is that you may be a good candidate for an alternative to orthodontic work to hide a gap or fix another kind of spacing flaw. With porcelain veneers, we can help patients by covering awkward alignment troubles, and we can add to undersized teeth that have extra space from their neighbors.
Talk To Your Prairie Village, KS Dentist About Correcting An Issue With Your Smile Gap
If you would like to learn more about how Orthodontic Clear Aligners can take care of a smile gap, please contact our Prairie Village, KS dentist's office today at 913-901-8585.