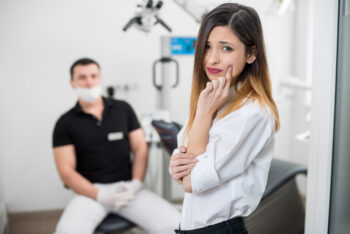 The time you spend not treating a cracked tooth can mean more time feeling self-conscious about your smile and more time to experience a harmful infection that threatens your oral health. Our Prairie Village, KS dentist's office is ready to provide timely care for different oral health issues. Because we make emergency dental services available to patients who need help, we can provide support for a crack in your enamel before you experience complications. Whether you need more involved treatment to address the matter or qualify for cosmetic dental work, we can see to it that you have confidence in your smile, dental health, and bite function after you receive care!
We Can Help When You Need Treatment For A Dental Injury
Dental injuries should not be taken lightly. When they occur, they create serious risks for complications. That can mean experiencing more harm to your tooth structure, and it can also mean going through problems after bacteria infiltrate your tooth structure and create problems for you. The good news is that your risks are reduced when you take problems with a tooth injury seriously and seek care. During an emergency dental visit, we can make sure that you have problems with your smile properly tended to so that you can smile, speak, and eat with confidence.
Scheduling An Emergency Dental Appointment
We can see patients on short notice when dental injuries and other potentially serious problems occur. In doing so, we can help to make sure that a problem is resolved before there are complications that must be addressed. The treatment you receive will depend on the results of your tooth's review. If the matter is not serious enough to require restorative work, we can discuss cosmetic dental work to make sure the injury is covered. For more significant problems, we can recommend more involved care, which may include root canal therapy to address an infection or internal injury.
Will My Smile Look The Same When Restorative Work Is Completed?
If you do need restorative dental work to make sure that your tooth's health needs are fully addressed, we can provide it while still making your appearance a priority. This is because we can offer dental crowns that match the appearance of healthy enamel. For the treatment of a back tooth that is harder to see and responsible for generating and absorbing greater bite forces, we can discuss the benefits of a metal crown.
Talk To Your Prairie Village, KS Dentist About Caring For A Cracked Tooth
A cracked tooth is a treatable issue, but it is not one that you should take lightly. To find out more about how emergency care can help with this and other problems, please reach out to our Prairie Village, KS dentist's office at 913-901-8585.