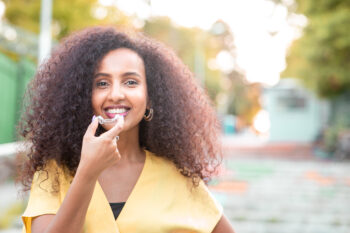 There are different reasons why people may choose not to express their interest in a straighter smile to their dentist. A big concern is with the type of treatment that will be recommended to them. For adults in particular, the idea of wearing metal braces can feel awkward and embarrassing. It can also be concerning to think about how aligners will affect them on a daily basis. At our Prairie Village, KS dentist's office, we can provide an alternative approach that you can find more appealing. Daily life with Orthodontic Clear Aligners can be easier for you to adjust to, as your appliances will be hard to see and easy to remove!
Will I Feel Comfortable Using Orthodontic Clear Aligners?
Orthodontic Clear Aligners can make a person's experience with corrective work easier for several reasons. The start of treatment with these appliances will allow you to maintain your appearance, as your aligners are hard to see when in place thanks to their clear design. At times when you need to eat or clean your teeth, you can find that they are easy for you to remove. Because of this, you can see few changes in your daily experiences and quality of life that might frustrate you.
Incorporating Your Aligners Into Your Daily Life
At the start of your adjustment, you will receive a set of customized clear aligners. Each one in the set you receive is made to help progress your teeth to their proper positions. To stay on track with your expected treatment end date, you should wear each one for the recommended length of time, and throughout your typical day. With that said, removing them to enjoy meals and snacks, and to brush and floss, will not be a problem. During periodic reviews, we can check on your progress and address any questions you have about treatment.
What To Look Forward To After A Successful Treatment
By taking on problems with poorly aligned teeth, you can make meaningful improvements to your appearance. With that said, this offers more than just cosmetic dental benefits. A straightened smile can make it easier for you to bite and chew without difficulty, reducing your risk for TMJ problems. You can also have an easier time cleaning your teeth when you no longer have to work to clean teeth that awkwardly overlap each other.
Talk To Your Prairie Village, KS Dentist About Clear Aligners
If you want to do something about your uneven smile but feel self-conscious about metal braces, talk to Dr. Browne about Orthodontic Clear Aligners! When you do so, you can learn about a procedure that can improve how you look and resolve potential oral health issues, one that is surprisingly easy to fit into your daily life. If you are ready to learn more, reach out to our Prairie Village, KS dentist's office at 913-901-8585.