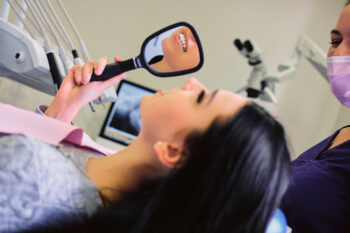 If you want to protect your smile, take cavity prevention seriously. Any time decay becomes a serious enough problem to require restorative treatment, you will experience permanent harm to your enamel. At our Prairie Village, KS dentist's office, we can often take care of these damages with carefully placed, lifelike dental fillings. A filling is a conservative treatment option, one that only covers the area where harm has affected your enamel. In addition to offering restorative work that is durable, we can provide treatment that preserves your smile. This is thanks to the use of a composite resin substance that matches your tooth structure to avoid the notice of others.
Why Cavity Treatment Requires Permanent Restorations
Whenever a cavity forms, the tooth that experiences harm will continue to experience decay as bacteria do harm to your enamel. The longer it takes for you to do something about this, the more damage you will ultimately need addressed. This can lead to serious complications, as harmful microbes can eventually make their way to your pulp and attack living tissues within your tooth structure. Fortunately, regular dental checkups make it less likely that you will experience this kind of issue. When a cavity is caught in time, the decayed section of the tooth can be treated and restored with a conservative dental filling.
We Use Dental Fillings That Imitate Healthy Tooth Structure
Our dental fillings are able to do more than just provide protection for your tooth. The material that we use is able to closely mimic the color and texture of enamel, making discreet cavity care possible. The substance hardens after it is applied, creating long-term protection. Before we move forward with treatment, we can assess the condition of your tooth to see if you might require a more advanced service.
What Else Can Your Dentist Do To Restore Your Smile?
When a patient has a more severe cavity to address, there are different approaches that may need to be taken. A dental crown can provide important coverage when a filling fails to provide the support needed to preserve your oral health and bite function. We can also determine if you need work done to address an infection that has formed within the tooth. Through root canal therapy, we can remove infected tissues and stop bacteria from spreading further and creating more problems for you.
Talk To Your Prairie Village, KS Dentist About Receiving A Lifelike Dental Filling
With a durable, discreet dental filling, your tooth can remain protected and maintain its natural appearance long after your cavity is treated! If you would like to find out more about how we can help you through restorative treatment, reach out to our Prairie Village, KS dentist's office at 913-901-8585.