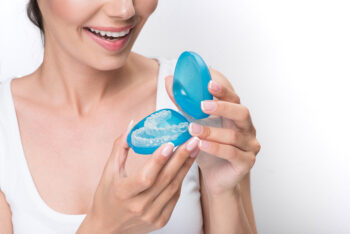 How should you approach treatment to fix poor teeth spacing? If you want to do something about gaps or overlaps between teeth but hope to avoid using metal braces, our Prairie Village, KS dental practice can help. We can provide a solution in the form of Orthodontic Clear Aligners. You will depend on a set of appliances that gradually move your teeth into their appropriate positions over time. Each one that you receive will be both easy to take out and difficult for others to notice. Because this patient-friendly option is available, many who are uneasy about the idea of corrective work can more confidently move forward with a beneficial adjustment!
How Comfortable Are You With Your Current Smile?
If you have alignment issues that make your smile look awkward because of gaps or overlaps, or problems that generally cause it to look asymmetrical, you can have a hard time displaying it with confidence. Fortunately, the issues people have with their teeth spacing are fixable; in fact, you can learn about a treatment solution that actually fixes alignment problems without metal braces! Our practice can talk with you about starting an adjustment with Orthodontic Clear Aligners. The set of appliances that you receive can gradually move your teeth into better positions while keeping the procedure discreet and easier to fold into your daily routine.
Planning Treatment With Orthodontic Clear Aligners
An examination of your teeth and current alignment issues can help us confirm that you are a good candidate for corrective work. We can also use your review to take the measurements needed to plan your procedure. The appliances that you receive will all be custom-made to fit properly and make the adjustments that you need. Each one is made to be both hard to see and easily removed, which removes concerns that they may make problems for you in the course of your typical day.
Exploring Other Beneficial Cosmetic Services
A procedure with clear aligners is just one of many services that can help you feel better about your smile. We can discuss other services available to you, such as treatment with porcelain veneers, which can have positive effects on how you look. What might surprise you is that with porcelain veneers, we may be able to correct the cosmetic problems associated with poor teeth spacing in just two appointments! We can also take on smile flaws with Lumineers, which are slimmer and require less preparatory work than traditional veneers.
Talk To Your Prairie Village, KS Dentist About Orthodontic Clear Aligners!
With Orthodontic Clear Aligners, our practice is capable of taking on the problems with teeth spacing people are embarrassed by without asking them to wear metal braces. If you are ready to explore this treatment further, or if there is any other that interests you, reach out to our Prairie Village, KS dentist's office at 913-901-8585.