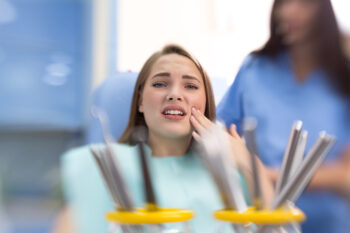 Restorative treatment can take on different threats, including the threat of tooth loss due to an injury. With that said, it is important that you act quickly when you have a tooth that has been made insecure. The longer it takes you to do something about this problem, the more likely you are to experience complications that lead to tooth loss! Our Prairie Village, KS dentist's office can make it easier to schedule the appropriate care. We can bring you in for an emergency dental procedure to treat a loosened tooth, as well as one that is broken or fully dislodged.
Act Quickly When You Have A Tooth That Is Knocked Loose
When you feel that a tooth is not secure, you can be rightly afraid it is vulnerable to being lost. One thing to avoid is handling it too aggressively as you try to keep it safe, as doing so can loosen it further. If you can, put gentle pressure on it with your tongue to see if you can keep it in its socket. We can see you on short notice to determine how we can provide the care needed to keep it safe. We will look carefully over it to see what kind of support is needed, which may include advanced treatment like root canal therapy.
Undergoing Urgent Smile Care
Any time a patient is in need of emergency dental work, our practice can work with them to provide care on short notice. We can prepare to see you when you contact us and let us know what has happened, and we can offer tips on protecting your tooth and minimizing discomfort before you come in. When you arrive, Dr. Browne will be able to look you over and determine what kind of support you require. When appropriate, the care we supply can include advanced treatment, including root canal therapy and the placement of a dental crown, when a tooth is in poor health. If a loosened tooth is harmed to the point where it cannot be saved, we can still look into preserving your full smile by providing prosthetic services.
Restorative Services Can Provide Cosmetic Benefits
Whether you have a restoration placed on your tooth or receive an artificial appliance as a replacement, you can count on us to provide cosmetic as well as oral health benefits from care. It is important that you are still able to bite and chew without difficulty after treatment. With that said, we also understand how important a front tooth's look is to your overall appearance, and we can use lifelike restorations to take care of you!
Reach Out To Your Prairie Village, KS Dentist If Your Tooth Is Knocked Loose
If you find yourself with a tooth that is loose, damaged, or dislodged, you can count on us to provide prompt support! For more information, reach out to our Prairie Village, KS dentist's office at 913-901-8585.