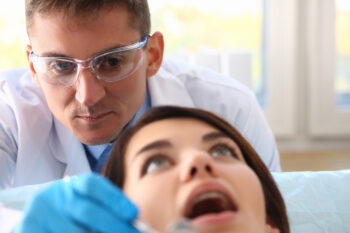 Oral health issues can be discovered during routine oral health exams. Patients can actually be surprised to learn that something is wrong during an appointment, as an issue can be identified before symptoms begin to affect them. With that said, there are times when patients know something is wrong and need to see their dentist as soon as possible. In these scenarios, it can help to know that your oral health office can see you on short notice. Our Prairie Village, KS dentist's office wants patients to know that we are able to meet with them for emergency dental appointments. In doing so, we can see to it that they have their needs met before there are complications, and so that active discomfort can be addressed as swiftly as possible.
Some Oral Health Problems Require Treatment On Short Notice
If you have a problem with your dental health from a severe cavity or injury, timing can be vital to your care experience. The longer it takes you to see someone about an unhealthy tooth, the more likely you are to experience complications. If you are already in pain, a delay means more time dealing with discomfort that can actually take away your bite support. You also have to worry about the cosmetic effect of an injury, which can lead to discomfort and embarrassment.
Addressing Your Dental Emergency
We work with patients to bring them in promptly for smile care when they have possible emergencies. Be sure to take care of the tooth in question to the best of your ability before you arrive. An ice pack or cold compress can help with pain. If the tooth is loose or dislodged, careful handling can make it more likely your dentist will be able to save it. At your appointment, Dr. Browne will evaluate you to look for the appropriate restorative dental treatment. While our goal is to provide success through the most conservative procedure we can, it may be necessary for us to provide root canal treatment or even a prosthetic replacement for a tooth that cannot be saved. With that said, even if we have to provide advanced care, we can see to it that your appearance does not change for the worse by using lifelike restorations in your care.
Talk To Your Prairie Village, KS Dentist About Emergency Oral Health Services
Timely care can certainly benefit you when you are in pain because of poor oral health. Emergency services help you with active discomfort, and they provide support in time to avoid complications that can change your needs from treatment. If you have questions about our urgent services or want to book a visit with us, reach out to our Prairie Village, KS dentist's office at 913-901-8585.