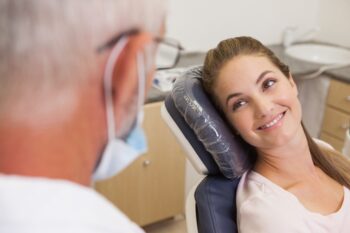 The care you take to protect your smile can help you maintain confidence in the way you look, and it can protect you against potentially serious problems with your teeth and gums. As important as it is to have a routine in place that you follow on your own, you should count on more than just your daily behaviors to preserve your oral health. Regular dental exams provide you with updates regarding the state of your smile, and professional dental cleanings protect you against accumulated plaque and tartar buildup. Our Prairie Village, KS dentist's office is here to help you maintain your dental well-being by providing preventive care, and by stepping in to offer support for any problems that might arise and affect you.
Are You Really Doing Enough To Protect Your Smile From Harm?
By keeping to a consistent routine of brushing and flossing, you can avoid potential problems with bacteria that can cause cavities and problems with gum disease. A good routine, along with keeping to a smart diet that is low in sugar, can certainly control your risk for potential issues with your well-being that requires restorative dental work. Keeping up with your own habits is important, but you should also protect your smile by keeping up with regular dental checkups. The reviews and cleanings provided during these visits will help you avoid difficulties with tartar buildup and keep you better informed about the condition of your smile.
Scheduling Dental Checkups And Cleanings On A Semiannual Basis
To stay consistent with smile care, you should have appointments for routine reviews booked every six months. Regular appointments provide you with updates about the state of your smile so that you do not have to worry about complications from advanced dental decay or gum disease. Thanks to the cleanings that take place during these appointments, your future risks are lowered.
What To Expect When A Problem Is Identified
Timing matters when it comes to the treatment of oral health issues. A cavity that is not identified in time can become severe and cause your tooth to become infected. Problems with gingivitis can worsen, leading to long-term difficulties with gum disease. Every routine appointment creates an opportunity for issues with your smile health to be discovered and treated. Restorative dental work for a small cavity still requires the placement of a permanent restoration, but you can have a conservative filling placed instead of receiving a crown that has to completely surround your tooth above the gumline.
Talk To Your Prairie Village, KS Dentist About Scheduling Regular Dental Checkups
Regular dental checkups both protect you against smile threats and let you know when there are problems that need to be treated. If you have questions or wish to book your appointment, reach out to our Prairie Village, KS dentist's office at 913-901-8585.