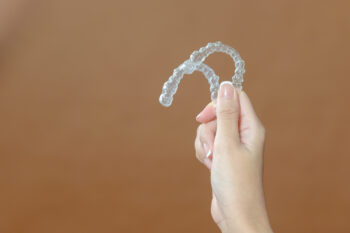 There are different strategies that patients rely on to make lasting smile improvements. If your goal is to do something about poorly spaced teeth, our Prairie Village, KS dentist's office can offer a treatment that leads to meaningful changes while keeping your adjustment discreet. Instead of depending on a set of metal braces to move your teeth, we can recommend that you use Orthodontic Clear Aligners to see positive results! These aligners are difficult to see as well as easy for you to remove. In addition to taking care of your cosmetic concerns about poor alignment, we can use these appliances to improve your bite function!
What Are Your Goals For Improving Your Smile?
There are different cosmetic flaws that can be addressed through treatment. Our cosmetic dental services address flaws like discoloration, existing dental damage, concerns about tooth shape and size, as well as poor teeth spacing. Many who worry about the way their teeth are aligned can feel hesitant to discuss treatment, as they worry their only option will be metal braces. By bringing your interest to Dr. Browne, you can learn about the advantages to working with Orthodontic Clear Aligners, which produce positive changes without asking you to wear a fixed and conspicuous orthodontic aligner!
Beginning Corrective Work With Clear Aligners
Your clear aligners are prepared specifically for your use. That means that they are the right shape and size to remain secure, and it also means your adjustment is planned around your specific spacing problems. You can wear them even in situations where you are more conscious about your appearance, as they are made from a clear material that leaves them difficult to detect. With that said, when there are times they should be removed, you can find that doing so is easy. Because of this, patients can progress through their corrective work without worrying about changes to their diet and hygiene routine.
Orthodontic Clear Aligners And Your Bite Function
In addition to providing real changes to your appearance, your Orthodontic Clear Aligners can provide help for patients vulnerable to TMJ disorder because of their misaligned bite. When individuals come to us to discuss how they can enjoy relief from jaw pain, we can recommend this service if we find that poor spacing is making it difficult for you to bite and chew comfortably.
Talk To Your Prairie Village, KS Dentist About Clear Aligners And Your Smile
With the right approach to care, a person embarrassed by poor teeth spacing can see real benefits without the discomfort of a fixed and conspicuous orthodontic treatment. If you are ready to learn more about clear aligners and their positive impact, please reach out to our Prairie Village, KS dentist's office at 913-901-8585.