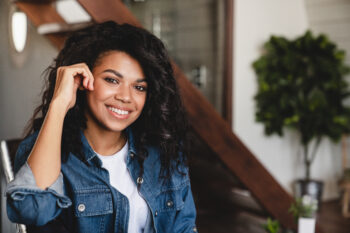 When you take care of your problems with teeth spacing, what kind of improvements will you really see? With Orthodontic Clear Aligners, you can make your smile more symmetrical and attractive by fixing gaps, overlaps, and other problems with your alignment. In addition to enjoying cosmetic changes, you can benefit from your corrective work because it improves your bite function and oral hygiene efforts. At our Prairie Village, KS dentist's office, we can help you understand how these appliances can help you, and we can prepare you for a successful treatment experience. When your work is over, you can marvel at just how much good this one approach to care can do to improving on how a person looks.
How Much Good Can Clear Aligner Treatment Really Do For Your Smile?
When you agree to treatment with Orthodontic Clear Aligners, you agree to a procedure that can close any smile gaps you have, straighten out teeth that overlap and look out of place, and generally make your appearance more symmetrical. These changes can provide noticeable results, giving you newfound confidence in your appearance and more excitement when showing off your smile. You can also benefit because corrective work can lead to better bite alignment, which lowers your risk for TMJ problems in the future, and because you can more easily clean teeth when they no longer overlap.
Choosing To Start Treatment To Straighten Your Teeth
Once you have your candidacy for clear aligner treatment confirmed by Dr. Browne, you can proceed to begin the adjustment process. Your movements are guided by a set of personalized appliances, with each one worn for a set period of time to move along your smile. They are easy to remove, so you will not have to worry about their presence being a problem for you when you want to eat or clean your teeth. Because they are difficult to see, you can also feel comfortable with them in situations where you might be more self-conscious about your appearance.
Discussing Your Other Options For Cosmetic Treatment
While Orthodontic Clear Aligners are certainly capable of improving your appearance, they are not the only service we provide to people interested in cosmetic care. You also have options like porcelain veneers, which can help with some spacing issues as well as embarrassing flaws like discoloration, dental damage, and problems with tooth shape and size. We can help you identify the procedure that is right for you by discussing both your goals and concerns regarding treatment.
Talk To Your Prairie Village, KS Dentist About The Results You Can See With Clear Aligners
Through the adjustments made by your Orthodontic Clear Aligners, you can see meaningful smile improvements as well as welcome changes to your oral health. If you would like to find out more, please reach out to our Prairie Village, KS dentist's office at 913-901-8585.