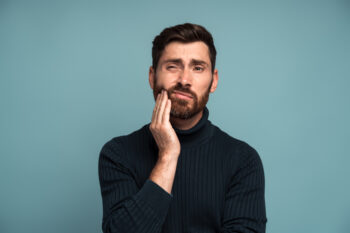 When you have problems with your jaw movement, the poor alignment of your joints can lead to tension that causes pain and stiffness that lowers your quality of life. As time passes, that can lead to worsening discomfort on its own, and it can lead to teeth grinding difficulties that can cause serious dental damage! At our Prairie Village, KS dentist's office, we are prepared to help our patients take on problems with poor TMJ difficulties that interfere with their quality of life. In addition to providing appliance therapy to help you relieve discomfort, we can look out for any oral health issues that are making it hard for you to bite and chew with natural movements.
Is TMJ Disorder Making Your Life More Difficult?
Problems with your jaw movement can create a number of problems for your daily life that can prove difficult to ignore. Your troubles with limited or painful biting and chewing can make meals difficult to enjoy, and it can become a distraction throughout the day. Unfortunately, it can lead to worsening pain and stiffness along with problems like headaches and pain in the neck and shoulder. If your symptoms include teeth grinding, you can also be susceptible to potentially serious injuries to your enamel!
Discussing Your Jaw Problems With Your Dentist
You can bring up your difficulties with jaw pain at a routine dental checkup, or you can make an appointment if you wish to discuss this problem. By undergoing an evaluation, you can both confirm that TMJ problems are responsible for your pain and learn what can be done to relieve you of discomfort. A custom oral appliance can be a useful tool in stopping worsening discomfort. With it, you can correct an imbalance and return to a more natural and comfortable bite problem.
We Can Also Help You Manage Related Problems With Teeth Grinding
When people suffering from TMJ disorder have related issues with teeth grinding and clenching, it can be hard to avoid potential dental damage. Patients should seek treatment as soon as possible to avoid permanent harm from occurring. However, if you already have problems with teeth that are chipped or cracked, we can offer support through either cosmetic dentistry or restorative dental work.
Talk To Your Prairie Village, KS Dentist About Your TMJ Difficulties
If you are struggling with bite discomfort, lingering jaw pain, or issues with head, neck, and shoulder discomfort, you can receive important help through TMJ treatment. Our practice can provide relief after confirming that this condition is responsible for your discomfort. If you would like to learn more about how we can help you, please reach out to our Prairie Village, KS dentist's office today at 913-901-8585.