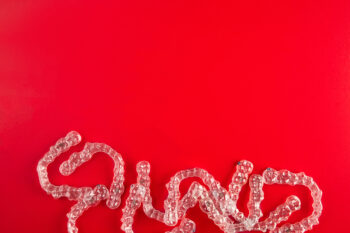 There is more to orthodontic work than just a chance to improve your smile. Corrective treatment helps with spacing issues that can negatively impact your bite, and it can also make it easier for you to practice good oral health habits. With that said, it is hard to blame someone for being excited when they learn what corrective care can do for the way they look! At our Prairie Village, KS dentist's office, we can recommend that you use Orthodontic Clear Aligners to address issues that you have with your appearance that are brought on by spacing issues. By using this approach, you can see a desirable outcome to care while experiencing less impact on your daily life!
Are You Ready To Do Something About Poor Smile Alignment?
The problems with your smile alignment can be difficult to ignore. Any visible gaps or overlaps can be a source of embarrassment, one that you wish you could keep hidden. You also need to worry about trouble with a generally uneven appearance that makes your smile asymmetrical. While you may worry that the only answer to these issues is a procedure with metal braces, many with poorly spaced teeth qualify for care with Orthodontic Clear Aligners! This can make the beneficial work of straightening your smile more discreet, and also make it easier to fit into your daily life.
Discussing Treatment With Orthodontic Clear Aligners
We can start planning your treatment with Orthodontic Clear Aligners if you feel ready to fix your uneven smile. With detailed measurements of your teeth and oral structures, we can determine how your teeth should be moved, and we can see what shape and size your aligners should be. Once you receive them, you will begin wearing your appliances to encourage the movement of your teeth over time. They are easy for you to remove, so there will not be issues with your ability to eat or clean your teeth.
Other Services We Provide That Lead To Cosmetic Improvements
There are several procedures we can recommend when patients want to make cosmetic changes. With porcelain veneers, we may be able to hide spacing issues as well as problems with the shape, size, and color of teeth that currently have a negative impact on the way you look. Veneers can be placed over just two appointments, making this a faster path to cosmetic improvements. Through tooth bonding and contouring work, we can actually help you see results in as little as one appointment by targeting flawed teeth.
Talk To Your Prairie Village, KS Dentist About Cosmetic Care With Clear Aligners!
Through an adjustment with Orthodontic Clear Aligners, we can help you move on from concerns about the spacing of your smile! If you would like to find out more, please reach out to our Prairie Village, KS dentist's office at 913-901-8585.