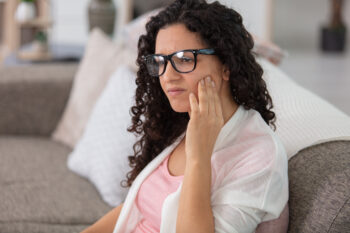 As the new year is almost here, you should make sure that you have your upcoming routine dental visits scheduled for 2022. Typically, patients can comfortably go six months between appointments in order to stay on top of their smile care needs. Unfortunately, there are times when an appointment needs to be scheduled as soon as possible. One reason for this is the onset of a serious tooth pain that needs the attention of a professional At our Prairie Village, KS dentist's office, we can provide treatment on short notice. During your emergency dental procedure, we can determine why you are having such discomfort, and from there we can recommend the appropriate service or services to put an end to your problems.
Problems With Dental Pain Should Not Be Taken Lightly
If you are experiencing severe pain, or if a persistent discomfort has become a growing concern for you, our practice can help. We want our patients to know that we are ready to see them on short notice. You should know that your pain could be due to an issue with an internal injury or severe cavity. As time passes, the problem can grow more serious, which can put you at risk for losing the tooth in question.
Scheduling And Attending Your Emergency Dental Visit
Let our practice know as soon as possible that you will need to come in for emergency treatment. When you call to set up your visit, we can offer tips on managing discomfort and make sure that we are ready to meet you when you arrive. The treatment you undergo will be determined by your evaluation. For a problem with persistent or serious pain, you may need a root canal procedure. This is a service that addresses problems within your tooth structure, which can grow severe when not addressed in time.
You Can Arrange Treatment Without Worrying About Your Smile
The good news about emergency dental work is that it can provide improvements for your oral health while it also takes care of your appearance. Any time we need to provide restorative dental work, we can look into the use of custom fillings and crowns that are made to look like your healthy enamel. These restorations can effectively improve your appearance while they also preserve your ability to bite and chew.
Talk To Your Prairie Village, KS Dentist About Your Severe Tooth Pain
Severe tooth pain is not something to be taken lightly, and it can certainly be a problem that proves difficult to ignore. At our Prairie Village, KS dentist's office, we can make sure you have treatment that you need on short notice, so that the issue does not grow more serious over time. If you would like to find out more about how we can help you, please reach out to our Prairie Village, KS dentist's office at 913-901-8585.