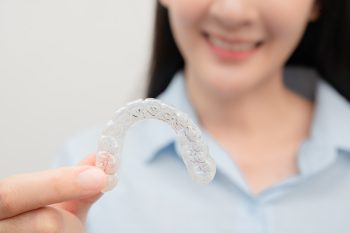 During the workday, you can be understandably concerned about maintaining a professional demeanor. Unfortunately, concerns about appearances can stand between individuals and orthodontic treatment, as many worry that braces will negatively impact how they are perceived. At our Prairie Village, KS dentist's office, we can provide a discreet alternative to metal braces, one that lets you avoid discomfort over the way you look as you make changes to the alignment of your teeth. Orthodontic Clear Aligners are custom-made, removable appliances that are easy to slip on and off. Their design makes them difficult to see when in place, so you can keep them on even at times when you are more self-conscious about the image you are projecting.
Orthodontic Clear Aligners Offer Many Welcome Benefits
There are many advantages to discuss when you want to learn about Orthodontic Clear Aligners. One "clear" benefit affects those who worry about how braces will impact their appearance. These aligners are designed to go unnoticed, so you will not have to deal with an undesirable change to the way you look. This can be good for both social and professional situations. You can also be grateful to have access to an orthodontic procedure that relies on removable appliances, as you will not have to wonder how treatment will impact your ability to eat and clean your teeth.
Wearing Your Aligners During The Workday
To stay on track with your planned smile improvements, you should keep your clear aligners in place throughout the day. Removing them for extended periods will interfere with your treatment end date, which means you have to prolong the time you spend wearing them. The good news is that their clear design lets you wear them with confidence, as they can go undetected by the people around you. At times when you want to eat or clean your teeth, you can take them out so that they do not interfere with these tasks.
What To Look Forward To When Your Adjustment Is Complete
What can change when you complete corrective work to fix gaps, overlaps, and other alignment problems that affect your smile? You can certainly look forward to cosmetic benefits, but this work can also have positive changes for your oral health. A more even alignment can improve your bite function. You can also make your teeth easier to keep clean by straightening those that overlap.
Talk To Your Prairie Village, KS Dentist About Using Orthodontic Clear Aligners
Through work with Orthodontic Clear Aligners, you can take on issues with poor smile alignment discreetly. This means you have less to worry about as you move forward with care in the workplace, or in important social situations. If you would like to find out more, reach out to our Prairie Village, KS dentist's office at 913-901-8585.