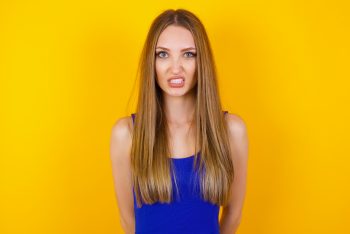 Proper smile care will help you stay safe against bacteria buildup and the accumulation of food debris, which will help you avoid problems that demand restorative treatment. With that said, there are more threats to your smile than this. One concern is over bruxism, an issue with teeth grinding and clenching that can negatively impact your quality of life and smile. How do you make sure your smile is safe if you struggle with nightly teeth grinding? With the help of your Prairie Village, KS dentist, we can provide important protection with a custom oral guard.

Why You Should Be Concerned About Nightly Teeth Grinding
If you start to experience the signs of nightly teeth grinding, you should be concerned for the state of your smile. The pressure that you generate when you clench and grind can wear down your enamel, leading to unwanted changes to your smile. Eventually, the pressure you apply can cause chips or cracks to form, which will create problems for your oral health as well as your appearance. Protecting yourself against this problem can call for assistance from your dentist. With a custom oral appliance, we can keep your teeth safe so that you do not cause any more harm.
Using Oral Appliance Therapy To Address Bruxism
Oral appliance therapy can protect your teeth against nightly grinding, and it can help to reduce pressure on your jaw joints and muscles. We provide personalized appliances for our patients, which can ensure that they stay secure and remain comfortable while in position. The guard will keep your teeth apart, which means no more friction from grinding and clenching. This can also help reduce problems with TMJ disorder, as you can remove a source of stress that regularly affects your jaw joints and muscles.
What Should I Do About Damage That Has Already Occurred?
If you already have concerns about dental damage from bruxism, our practice is here to help! We can evaluate you to determine if you need restorative dental work for teeth that are chipped or cracked. Dental crowns can provide lasting protection to ensure your smile and dental function are not compromised. When possible, we can recommend cosmetic dental work as a more conservative treatment alternative.
Talk To Your Prairie Village, KS Dentist About Bruxism
When you do not properly deal with bruxism, you can experience worsening discomfort, and you may even suffer from dental damage! The sooner you act to protect your smile, the less likely you are to face complications. In addition to providing protection against further problems, we can provide restorative or cosmetic treatment to address any damage to your enamel. To find out more, reach out to our Prairie Village, KS dentist's office at 913-901-8585.