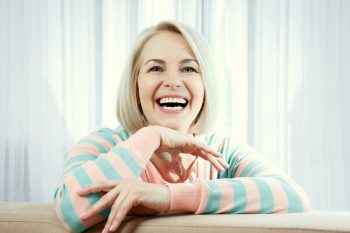 If you have a dental problem that is too serious for a dental filling, a crown will have to be put in place to keep your tooth safe. Dental problems that warrant this kind of care should not be taken lightly. These restorations are used to address severe cavities, and to resolve problems with physical damage that leave you with chipped, cracked, or broken enamel. Your Prairie Village, KS dentist can make sure that the crown you receive is the right shape and size to fit comfortably, stay secure, and leave neighboring teeth alone. We can also recommend different material types to best support the tooth as well as your smile. We can recommend a harder substance like metal if you need treatment for a back tooth, or we can provide a more lifelike restoration for one of your front teeth.
Carefully Planning Your Restorative Treatment With A Crown
Restorative dental work can require the placement of a dental filling, or it can call for a dental crown to support your tooth. The difference in these approaches lies in how much coverage you enjoy. A smaller cavity can be treated with a filling, which simply occupies the space where decay developed. For a cavity that is too large for this approach, or for dental damage, we can cap your tooth with a custom crown. In addition to making sure your restoration is just the right shape and size to fit securely and comfortably, we can plan treatment that supplies you with a crown made from the right material to provide long-term value.
Choosing The Right Material For Your Custom Crown
There are several materials that are used to create crowns for patients. If you need work done on a molar, it will be important to make sure that you have enough support to continue biting and chewing with adequate force. To ensure this, we can provide a metal restoration, or a porcelain-fused-to-metal crown. These options offer lasting protection and remarkable strength to absorb bite pressure, but they can be less than effective at mimicking the look of healthy enamel. For a front tooth that is more important when you smile and speak, we can provide a restoration made from porcelain or zirconia.
Are You Starting To Worry About An Older Crown?
A crown is always going to be necessary, as your tooth is not capable of healing on its own after treatment. This is why you should be concerned if an older restoration stops feeling comfortable, or if it begins to feel insecure. Putting off treatment for this issue can lead to its loss, and that can lead to more problems for the tooth being protected.
Talk To Your Prairie Village, KS Dentist About Receiving A Custom Crown
If you need a dental crown, we can make sure you have confidence in your smile and oral health after treatment by providing a lifelike, reliable dental crown! To find out how we can help you, call our Prairie Village, KS dentist's office at 913-901-8585.