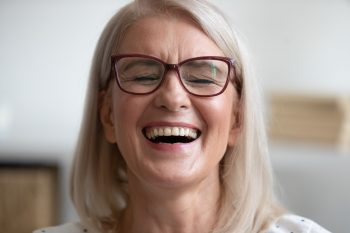 When you seek out treatment to regain your full smile after tooth loss, you can enjoy many benefits. One is that you can feel more comfortable with the way that you look, as you no longer have to feel embarrassed over a noticeable gap between teeth. Another advantage to treatment is that it can give you more bite support, which can make it easier for you to enjoy a varied, nutrient-rich diet. Patients who rely on restorations held by dental implants gain an additional benefit, as implants can stimulate surrounding jawbone tissues to protect them from deterioration after tooth loss. At our Prairie Village, KS dentist's office, we can start planning your prosthetic treatment to help you regain your appearance and oral health!
The Long-Term Value Of A Secured Dental Restoration
With a permanent dental prosthetic in place, you can feel more comfortable with your restorative work, and more confident in your ability to bite, chew, and speak. Tooth loss takes many things away from the person who experiences it. The loss of one tooth makes you more likely to lose more, which creates additional oral health difficulties as well as more problems for your appearance. Implant dentistry makes it possible for your dentist to provide a custom restoration that will remain in place. While dental bridges also provide permanent support, they have to be secured with dental crowns, which means healthy teeth need to be modified and restored. An implant is secured to your jawbone, where it will anchor your prosthetic the way a tooth would be anchored by its roots.
Are You Ready To Support A Dental Implant?
Many people can qualify for treatment with dental implant-held restorations. However, you should know that waiting too long to do something about your missing teeth can create complications. The longer you wait, the more likely you are to experience complications because of jawbone deterioration. Without teeth roots in place to provide stimulation, the bone loses density, which leads to cosmetic effects as well as problems for your oral health. We can work with you to arrange the appropriate care to improve your candidacy for treatment if this is an issue that prevents you from moving forward with implant placement.
Can Implants Help Me If I Need To Replace Multiple Teeth?
As we make plans to fully restore your smile, we can arrange services that require multiple dental implants. With additional implants, we can support larger restorations, or keep different appliances in place in different spaces. By regaining your full smile, you can enjoy better oral health as well as cosmetic improvements.
Talk To Your Prairie Village, KS Dentist About Implant Dentistry
Through treatment to address your tooth loss, we can give you back your confidence in your bite, improve your smile, and preserve your oral health. To find out more, reach out to our Prairie Village, KS dentist's office at 913-901-8585.