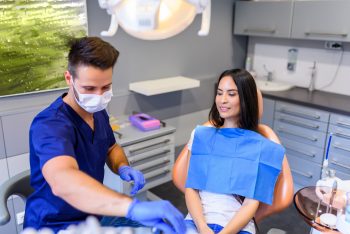 Is there anything you can do to protect your smile if you have a cavity? In the past, treatments for dental decay typically ended with the placement of a metal restoration, something that provided protection while altering your appearance. At our Prairie Village, KS dentist's office, we can make plans to treat your cavity without altering the way you look. This is possible because we provide restorations that actually imitate healthy enamel! For many cavities, we will use dental fillings to provide protection after treatment concludes. Our office can place restorations that both imitate enamel and bond to it to provide lasting stability and support.
Why Is A Tooth Filling Needed As Part Of Cavity Treatment?
There will be permanent damage to your tooth if you have a cavity. This is true even if the problem is caught early enough to prevent any complications, or even lead to you feeling pain from decay. What this means is that the tooth will have to be protected in order to keep it safe from further harm, and to prevent new problems due to the buildup of bacteria in the site of your past cavity. A custom dental filling is a discreet solution to the problem of enamel damage. It will cover the space where decayed tissues had to be removed. Because we use a lifelike resin substance that can imitate your tooth structure, we can affix the material and provide lasting protection without changing your appearance.
Receiving A Dental Filling That Matches Your Enamel
Our office uses a tooth-colored resin substance to provide dental fillings to our patients. This substance will match the color and general appearance of your enamel, so it will be difficult to see where the tooth stops and the restoration begins. Another advantage to using this material is that it bonds to your tooth. When it does so, the filling becomes remarkably secure, protecting you against complications from bacteria gathering in any spaces between the enamel and the restoration.
How We Address Problems With More Severe Cavities
It is not always appropriate to treat a cavity with a dental filling. This is because, simply put, a filling is not always going to offer enough support to address all of the damage that you experience before you go in for cavity treatment. In these situations, we can instead recommend that you receive a custom dental crown. Crowns require more time and preparatory work. However, because they completely cover your tooth above your gum line and provide important bite support, they are important for preserving your smile while treating you for decay.
Talk To Your Prairie Village, KS Dentist About Receiving A Lifelike Dental Filling
With a custom dental filling, you can count on your tooth to be restored without experiencing an unwelcome smile change. To find out more about our restorative services, please call our Prairie Village, KS dental office at 913-901-8585.