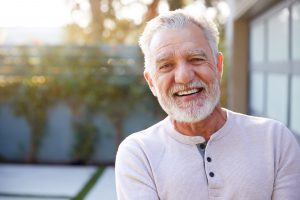 Tooth loss can cause many issues over time, but it is important to acknowledge that unaddressed gaps can actually make the loss of other teeth more likely Simply put, the teeth at either side of a gap in your smile have less natural support, and that means they are more likely to shift or move when you bite or eat. Fortunately, with the right prosthetic dental procedure, your smile will be whole again. In fact, your Prairie Village, KS dentist's office can discuss more than one option for treatment with a permanent dental prosthetic, one that can improve your appearance as well as your bite function.
Tooth Loss Is A Problem That Should Be Taken Seriously
There are few problems that are as hard to hide and difficult to adapt to as tooth loss. All you need is one lost tooth to experience changes in both your bite function and oral health. In time, this issue can lead to chronic pain, issues with eating and speaking, and more tooth loss! At regular dental exams, your dentist can discuss the benefits of prosthetic work, and they can talk to you about the problems your current issues with tooth loss have caused.
Receiving A Custom Dental Bridge To Replace Missing Teeth
Dental bridges are permanent appliances that can be placed without oral surgery. These restorations are placed when the dental crowns at each side of your appliance are affixed to the teeth surrounding a gap in your smile. Before you receive this restoration, you will go through minor preparatory work on the teeth being capped with crowns, and you will have measurements taken to make sure that your restoration fits properly. Once your bridge is in place, it will help you bite and chew food. Better bite function is important, as it will help you reduce tension on your jaw joints and muscles that can contribute to TMJ problems.
Using Dental Implants For Your Smile Restoration
While dental bridges offer exciting benefits, including the restoration of your full smile, there are still some issues that this approach will not resolve. One concern is with jawbone deterioration – after you lose teeth, you can gradually lose jawbone density, which will cause problems for your oral health and appearance. Dental implants help you by stimulating the bone tissues and encouraging the delivery of nutrients to them. Implants also help to stabilize neighboring teeth roots, as they reside in the space where your lost tooth's roots were once located.
Talk To Your Prairie Village, KS Dentist's Office About Replacing Your Missing Teeth
Dr. Browne is prepared to meet with patients who want to know how they can see meaningful improvements from prosthetic dental work. To find out more about our practice and services, contact our Prairie Village, KS dental office today at 913-901-8585.