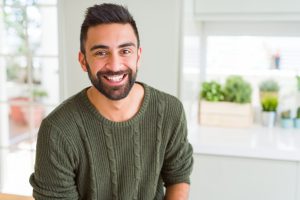 The condition of your teeth will certainly affect how you feel about your smile. With that said, teeth that are in good condition can still make you worry about your appearance if they are poorly spaced. Malocclusion can make a person unhappy with the way they look because their smile can seem asymmetrical, awkward, and generally less attractive than they might wish. At our Prairie Village, KS dentist's office, individuals who feel self-conscious about their smile alignment can meet with us to talk about the benefits of treatment with Orthodontic Clear Aligners Clear Aligners. These aligners are made to gradually move teeth with a series of discreet appliances. Like other clear aligners, they can be hard for others to notice, and they can be easily removed. What sets them apart is their design, which focuses on the movement of your front teeth to provide faster results!
Poor Smile Alignment Can Be A Big Cosmetic Concern
Even if your teeth are healthy, it can be hard to feel truly comfortable with your smile when you have gaps, overlaps, and other spacing issues. The symmetry of a person's smile can influence how attractive they appear to others. It can be particularly awkward to have poor alignment as an adult, as people often assume that orthodontic work would have taken place earlier in their life. Fortunately, there are appliances that can discreetly fix the issues you have and give you more confidence in the way you look!
Using Orthodontic Clear Aligners Clear Aligners To Change Your Appearance
Orthodontic Clear Aligners Clear Aligners are a set of clear appliances that move teeth into better positions. Like other clear braces, you can easily remove Orthodontic Clear Aligners aligners when you need to, and you can count on them to go undetected. What makes them different is the way that your different appliances are made. The goal with this treatment is to prioritize the movement of your front teeth. By doing so, patients start to see results sooner, and they can look forward to completing treatment in a shorter period of time than other appliances require.
Addressing Spacing Issues With Porcelain Veneers
Is it always necessary to address alignment flaws with orthodontic work? In some cases, patients with milder alignment flaws can have their smiles improved with porcelain veneers. Veneers can be carefully designed to cover teeth so that gaps and spacing issues are hidden. When this is done, care can also be taken to make your smile look brighter, and to hide any physical damages like chips or cracks.
Dr. Browne Can Help Patients Deal With Poor Teeth Spacing
If you are bothered by poor teeth spacing, Dr. Browne can help! Our practice provides treatment with Orthodontic Clear Aligners Clear Aligners, which are made to produce orthodontic improvements in shorter periods of time. To learn more about this treatment, or to discuss any other concerns you have about your smile, contact our Prairie Village, KS dental office today at 913-901-8585.