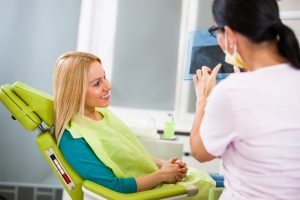 While a cavity will demand a trip to the dentist's office for restorative dental work, some cavities require a different approach to treatment than others. It may be necessary to perform a root canal procedure for some cavities, while others will only require the placement of a dental filling. What makes different treatment approaches necessary? The longer you wait to have a cavity restored, the more damage it can do. In other words, if you want to avoid complications from tooth decay, make sure that you have your smile checked regularly. At our Prairie Village, KS dentist's office, we can provide important updates about the condition of your teeth every time you come in for a routine dental exam.
Cavities Continue To Grow Until They Are Treated
You can stop cavities from forming on your teeth by maintaining good habits on a daily basis. Those habits include brushing and flossing, but they also extend to making smart diet choices. Unfortunately, your habits will not be enough to stop a cavity that has already formed or undo the harm it has caused. When decay forms, the problem will only worsen until treatment has been provided by your dentist.
An Advanced Cavity Can Lead To Serious Consequences
If a cavity grows severe enough, it can lead to problems with infection that cause pain and sensitivity. This discomfort occurs as bacteria spread within the tooth's pulp and attack the living tissues contained within. By continuing to put off treatment, you put yourself at risk for bacteria spreading beyond the tooth. You also put yourself at risk for such severe dental damage that you have to have your tooth extracted!
Make Sure You Stick To Consistent Dental Exams
By going in for routine dental exams on a semiannual basis, you can receive helpful updates about your oral health from your dentist. If a cavity is identified during your visit, the appropriate treatment can be arranged. Depending on the size of the cavity, you will receive either a dental filling or dental crown for the tooth. You are less likely to have an advanced cavity when you have regular exams, as your dentist is given more opportunities to find and treat decay when it forms. Of course, because these visits also provide you with preventive dental care, your risk for developing cavities will be lowered!
Talk To Your Prairie Village, KS Dentist About Your Cavity Concerns
If you think you have a problem with tooth decay, make sure you address it as soon as possible. Dr. Browne is prepared to help individuals with cavities that have recently formed, but our practice is also ready to care for individuals experiencing complications with advanced decay. If you have questions or wish to learn more, contact our Prairie Village, KS dental office today at 913-901-8585.