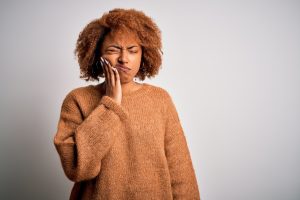 When physical trauma occurs, you can go from having no concerns about your oral health to having an immediate concern to bring to your dentist. Injuries can be relatively minor, or severe enough to put your tooth at risk. With that said, even if you feel the injury is relatively mild, you should have it evaluated to make sure it is properly restored. At our Prairie Village, KS dentist's office, patients who suffer physical injuries can reach out to us to schedule the appropriate treatment. If you are concerned about pain or the loss of your tooth, it is possible to set up an emergency dental visit and have the matter evaluated as soon as possible.
Ignoring A Physical Injury Can Lead To Complications
If your injury seems less than serious, do you really need to rush off to the dentist's office? The harm to your tooth may be relatively minor, requiring only cosmetic dental work to restore it, but you can put your oral health at risk by simply not seeing your dentist about it. The tooth could become more damaged over time, or it may be vulnerable to an infection that seriously affects its health.
Will You Need Restorative Or Cosmetic Treatment?
If an injury affects your oral health, restorative dental work will be needed to properly restore it. That work may include root canal therapy, which is performed to address problems within your tooth's pulp. After treatment, a tooth can be capped with a dental crown to keep it safe. Injuries that do not have long-term consequences for a tooth's health, or for your dental function, can be addressed with cosmetic dental work. The placement of porcelain veneers can hide conspicuous chipping or cracking while occupying less space than a crown would.
You Can Schedule Care On Short Notice
If you are in pain after your injury, or if you fear that your tooth might be lost, we can bring you in for an emergency dental appointment. Emergency appointments allow us to tend to individuals who are not able to wait for care, reduce a patient's risk for tooth loss, and resolve concerns about discomfort. In the event that a tooth cannot be saved, even with emergency dental work, we can discuss your options for prosthetic dental work and the safe extraction of the tooth in order to help you move past your injury.
Talk To Your Prairie Village, KS Dentist About A Dental Injury
Dr. Browne has experience caring for patients who suffer physical injuries. After determining the extent of the damage, he can let you know if it might be necessary to perform restorative dental work, or if you can move forward with cosmetic dentistry. To find out more, please contact our Prairie Village, KS dental office today at 913-901-8585.