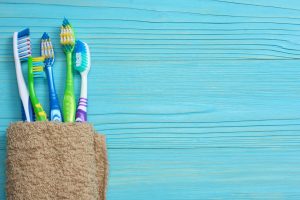 If your goal is to stay on top of your oral health needs, the actions you take from one day to the next will be important. Few actions are as closely linked to oral hygiene as brushing your teeth. While frequent, thorough brushing helps, brushing with too much force may have unintended consequences. By moving the bristles too aggressively over your enamel, you can start to wear down your teeth, making them more vulnerable to cavities and discoloration. Hard brush strokes can also cause gum line recession, which can affect your appearance and periodontal health. During regular dental checkups, your Prairie Village, KS dentist's office is ready to guide patients when it comes to matters of daily care.
Is Your Brushing Routine Causing Enamel Erosion?
When done consistently and thoroughly, brushing will help you protect your enamel from the buildup of plaque and tartar, which keeps you guarded against troubles with gum disease and dental decay. What you should recognize is that the approach you take to brushing can impact you in ways that may surprise you. For example, if you never make an effort to clean at the bases of teeth, you can become more susceptible to problems with gingivitis because of bacteria buildup at your gum line. Aggressive brushing is also an issue, as the force of your cleaning can start to wear down your enamel. In time, this can raise your risk for cavities, and the effects of erosion may also lead to an unwelcome change in the color of your smile.
A Change To Your Brushing Routine Can Lead To Positive Results
Just as mistakes in your brushing routine can hurt your oral health, improvements to your daily habits can have positive benefits. Set a timer for two minutes when you brush next – if the time seems longer than you are used to, continue until it grows comfortable. Better brushing also means being more thorough and reaching areas that might be missed while you are rushed or distracted. To ensure your toothbrush remains effective, you should pick up a replacement after three months.
What Else Can You Do To Improve Your Oral Health?
Are you flossing as well as brushing on a daily basis? If you are not, you can become vulnerable to problems with gingivitis and tooth decay due to the accumulation of bacteria and food particles in between your teeth. With a combined effort to brush and floss, you can make sure you remain less vulnerable to trouble with your smile. You should also make a commitment to changing your diet if you have had recent problems that required a dental filling or dental crown. Cutting sugar can help, as can reducing your consumption of acidic products that lead to enamel erosion.
Our Prairie Village, KS Dentist's Office Is Ready To Care For Your Smile!
Dr. Browne helps patients in and around the Prairie Village, KS community who wish to keep their smile in good health! In addition to providing guidance and preventive care, we can step in and restore a tooth in poor condition, or talk with you about cosmetic improvements. To learn more, please contact our Prairie Village, KS dental office today at 913-901-8585.