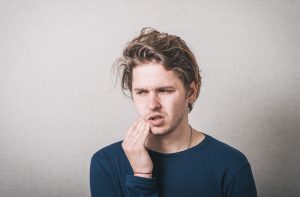 If a cavity forms on your tooth, the damage it ultimately does will depend on when you arrange restorative dental work. Patients who schedule treatment for tooth decay soon after a cavity develops can have work done with a dental filling to address the problem. Unfortunately, you may not realize that a cavity has formed until it grows too serious for a filling. In time, decay can expose you to an infection within your tooth. Once that infection occurs, you can start to experience the uncomfortable symptoms of advanced tooth decay. Our Prairie Village, KS dentist's office wants patients to recognize that an advanced cavity can be a serious problem for your smile. Because of this, and because the pain in your tooth can become difficult to manage, we do provide emergency dental services when they are needed.
The Severity Of A Cavity Can Change How Your Tooth Will Be Treated
There is not a way for you to stop a cavity yourself, so it will continue to worsen as time passes without treatment. When decay first forms, a dental filling can be put in place on your tooth after the cavity is removed. Dental fillings are able to bond to your tooth structure and provide protection as well as cosmetic support, as the material can match the appearance of your enamel. When a cavity has more time to develop, the damage can become more than a filling can be counted on to address. In time, bacteria can attack the nerves that support your tooth, which can cause problems with pain and sensitivity.
Pay Attention To Issues Like Pain And Sensitivity
Pain in a tooth, along with dental sensitivity, can be warnings that an infection has formed. Trying to put up with severe pain or discomfort in the hopes that the problem will eventually fade on its own can be a mistake. This can give a cavity more time to damage your tooth, and may even lead to bacteria spreading through the roots and attacking new parts of your body. The sooner you arrange root canal treatment, the sooner you can be sure that your tooth is no longer at risk.
Can An Advanced Cavity Call For Emergency Dental Work?
If you are finding it hard to ignore the pain in your tooth, or if you notice issues like swelling in the area where your discomfort is rooted, it is possible to arrange an emergency dental procedure. After you explain the issue, our practice can set you up with an appointment to have the tooth evaluated and treated appropriately.
Your Prairie Village, KS Dentist Is Prepared To Take Care Of An Advanced Cavity
At our Prairie Village, KS dentist's office, individuals who are concerned about advanced tooth decay can meet with Dr. Browne to have the issue addressed. To find out more, call our Prairie Village, KS dental practice at 913-901-8585.