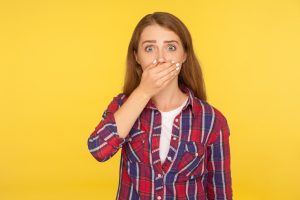 Having a mint handy can help you combat one instance of bad breath. However, it may not help you deal with the concerning frequency of your halitosis. Why do you often have breath issues that make you self-conscious? Is this a sign that something is wrong with your oral health? Frequent problems with bad breath can be attributed to poor oral hygiene, or it can be a symptom of an existing dental or periodontal problem. Our Prairie Village, KS dentist's office is able to identify and address many oral health issues at regular dental checkups. If necessary, we can take care of you if you have a dental problem that requires restorative dental work. When you are on your own, you can do your part to protect your smile by sticking to a thorough preventive dental hygiene routine.
Better Oral Hygiene Can Help You Combat Chronic Bad Breath
The presence of food debris and bacteria may be responsible for your bad breath. These particles can gather in a person's mouth throughout the day, but they should be promptly removed through proper brushing and flossing. If your habits are not as thorough as they could be, the concentrations of unwelcome agents may make it difficult for you to control this problem, leading to more bouts of bad breath!
Halitosis And Your Periodontal Health
Gum disease may not cause pain, but it can cause problems that can capture your attention. One of those problems is frequent issues with halitosis. If you have this problem, as well as problems like gums that are sensitive to bleeding, swollen tissues, or a receding gum line, it can be due to gingivitis. Dealing with this problem effectively can stop you from developing a more advanced form of gum disease that is harder to manage, and can increase your risk for tooth loss.
The Importance Of Paying Attention To Signs Of Poor Oral Health
Any time you have problems that seem to suggest poor oral health, take them seriously. While preventive dental care can stop issues like tartar buildup, cavity formation, and gum disease, you may develop a problem that requires restorative dental work if you have poor habits. Pay close attention to early signs of dental problems in order to react quickly and avoid complications.
Your Prairie Village, KS Dentist's Office Can Help You Maintain Your Oral Health
At our Prairie Village, KS dentist's office, patients can turn to Dr. Browne for oral health support. Our practice provides a range of services that can take on issues with your oral health and smile. In between your appointments, make sure you do your part to maintain healthy teeth and gums. These habits protect you from common oral health threats that can develop and worsen in time if not properly treated. To find out more about our services, call our Prairie Village dental practice at 913-901-8585.