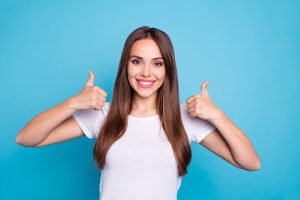 While you can welcome an immediate confidence boost from cosmetic dental work, you may be concerned that your results are not going to last. Will you find yourself feeling self-conscious about your smile again after a relatively short period, or can you count on a procedure to deliver long-term benefits? At our Prairie Village, KS dentist's office, patients who worry about their appearance can enjoy access to cosmetic treatments that provide lasting improvements. One way we can help you is by providing porcelain veneers. Veneers are capable of delivering visual improvements that last for many years thanks to their remarkable durability. We can also discuss treatment with Orthodontic Clear Aligners Clear Aligners, which can shift teeth discreetly in order to fix issues you have with gaps or overlaps between teeth.
Porcelain Veneers Can Deliver Impressive Smile Changes
Patients who are curious about cosmetic work can be excited to hear about the many benefits that porcelain veneers are able to provide. These thin shells are capable of hiding flaws with the shape, size, and color of your teeth, which makes them effective against many different smile concerns. While they are thin, they are strong enough to maintain their shape and color even as they experience friction from biting and chewing, which means you can count on your results to last.
Arranging Your Personalized Treatment
Veneers are custom-made for each individual undergoing treatment. The goal with this personalized approach to cosmetic care is to deliver your ideal smile improvements with this one procedure, which reduces the time you need to spend undergoing care. At an initial appointment, your dentist can carefully measure your teeth and perform preliminary work on them. The details gathered from those initial measurements are used to craft veneers that target the different issues with your appearance, and ensure that they fit comfortably when placed. When they are ready, you can return to have them permanently bonded in position.
Other Cosmetic Procedures That Can Deliver Long-Term Benefits
As an alternative to porcelain veneers, we can make changes to the shape, size, and color of teeth through bonding and contouring work. Our practice can also help you enjoy cosmetic improvements through the adjustment of teeth that appear out of place. With Orthodontic Clear Aligners Clear Aligners, we can provide patients with a discreet solution for problems concerning the alignment of teeth. Rather than wearing metal braces for an extended period of time, we can provide a set of clear aligners that change the positions of your teeth so that you can smile with more confidence.
Talk To Your Prairie Village, KS Dentist About Porcelain Veneers
At our Prairie Village, KS dentist's office, patients who are worried about their appearance can learn about the lasting benefits of a cosmetic procedure! To learn more about a specific treatment, or to review your options for smile improvement, call Dr. Browne's dental office in Prairie Village at 913-901-8585.