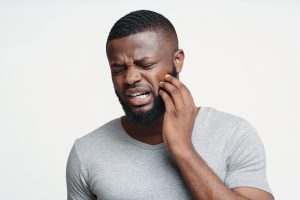 Why would common biting, chewing, and speaking motions cause you to feel pain? Problems with your jaw alignment or movement can create problems with your joints and muscles, leading to persistent discomfort, limited movement, and even problems with headaches and neck pain. This problem, known as TMJ disorder, can have many causes, and without treatment it can cause real concerns for your quality of life. At our Prairie Village, KS dentist's office, patients who are feeling symptoms of TMJ disorder can come to us for support in order to resolve their troubles.
TMJ Disorder Can Cause Pain On A Daily Basis
If you have unresolved difficulties with your jaw movement, a problem with the alignment of your joints, or any other trouble that can lead to TMJ disorder, pain can become a frequent problem for you. It may become difficult for you to speak, laugh, or eat without some limitations, imposed either by pain or an inability to fully move your jaw. You may also experience headaches, pains in your face, and even discomfort in your neck and shoulders. These frequent troubles can intrude on your daily life and make social and work activities more difficult. If your symptoms include a tendency to grind your teeth while you sleep, you may experience problems with wear and tear that damages your smile.
A Custom Appliance Can Help You Address Your Troubles With TMJ Disorder
By designing and providing you with a custom oral appliance, we can help you reduce pressure on your jaw, and correct poor alignment that can contribute to your TMJ-related discomfort. The appliance can gently change the position of your jaw in order to reduce tension, which helps you begin to reduce overall discomfort. Over time, you can enjoy a reduction in your symptoms, and feel yourself adjust to a more comfortable jaw position.
Stay Informed About Your Oral Health By Attending Regular Exams
If you want to remain informed about issues like TMJ disorder, keep up with regular dental exams! At every appointment, your dentist is able to look for any issues that might call for some form of treatment. Acting quickly to address TMJ disorder means spending less time in pain. It also means you are less likely to damage teeth because of habitual grinding.
Talk To Dr. Browne About Your Difficulties With Painful Jaw Movement
At our Prairie Village, KS dentist's office, Dr. Browne is prepared to talk with patients who are experiencing the unpleasant effects of TMJ disorder. You can make an appointment with us to discuss your troubles, and we can talk with you about any symptoms that might be affecting you at your next routine dental checkup. To learn more, or to set up a visit with Dr. Browne, contact our office today at (913) 901-8585.