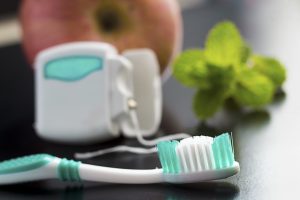 When you are confident that your teeth are clean and healthy, you can be more confident in your appearance, and more eager to share your smile. When it comes to caring for your smile, you can count on important support during every routine dental exam at our Prairie Village, KS dental office. At each preventive appointment, you can count on an expert teeth cleaning, as well as a review to determine if there are any health problems that should be addressed. You can also take quality care of your smile on a daily basis by brushing and flossing thoroughly, and by limiting your exposure to less healthy foods and drinks.
Practice Smart Smile Care Tips At Home
The habits you keep at home can be a key part of any person's efforts to avoid restorative dental work. When it comes to brushing, make sure you clean your teeth at least twice a day. The brush you use is important – look for one with soft bristles, and make sure you pick up a replacement every three to four months. When you are working on smile care, spend at least two minutes brushing so that you can deliver thorough treatment to every portion of every tooth. Of course, even a thorough brushing routine can leave the spaces between your teeth poorly served. Floss at least one time a day to fight the buildup of plaque and food debris between your teeth. Doing so will be important if you want to avoid tooth decay, or problems with gum disease.
Receiving Regular Dental Cleanings
Hopefully, you have an admirable daily oral care routine. Even if you do, you should be aware that your hygienist can provide a professional teeth cleaning that can do more than brushing and flossing at home! Your hygienist can actually remove tartar, a substance that can harm your smile, and can stay on your teeth until your next professional cleaning. During these sessions, you can also benefit from your hygienist's ability to closely examine and clean hard-to-reach areas.
Your Diet Choices Can Have A Big Impact On Your Oral Health, Too
Cleaning your teeth effectively will help you avoid a need for dental fillings and dental crowns. Of course, better smile care should also involve better diet choices if you want to keep yourself in top shape! Consuming products that are high in sugar can be trouble, but you should also watch out for acidic products. The acidity of different foods and beverages can actually weaken your enamel, so you are more likely to have issues with tooth decay.
Dr. Browne Can Help Patients Keep Their Teeth In Great Health!
Families in and around Prairie Village, KS can count on quality dental care when they come see Dr. Browne! Our practice can provide you with thorough preventive care, and take care of any oral health problems that might be affecting you. To find out more, or to schedule a visit with Dr. Browne, contact our office today at (913) 901-8585.