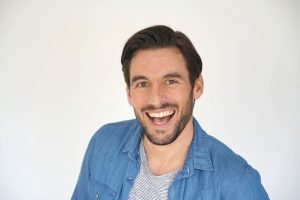 How serious is a problem with a chipped or cracked tooth? While the problem can certainly affect your smile, you may be less concerned if the damage does not result in pain, or affect the way you bite and chew. What you might not realize is that your tooth could be weakened by this harm, and you could wind up with more significant problems if you ignore the matter. Your Prairie Village, KS dentist can evaluate your tooth, and talk to you about proper treatment. If restorative dental work is recommended, a custom dental crown can help you smile, bite, and chew without issue. In cases where damage is truly just a superficial concern, you can learn about your different cosmetic dental treatment options.
Damaged Teeth Can Be A Problem For Your Smile, And Your Bite
If your chipped or cracked tooth draws unwanted attention when you smile, you can easily recognize it as a problem for the way you look. Even if a dental injury is hard to observe, it may be difficult for you to bite and chew because of it. Simply changing the way you bite is not an effective long-term answer to this problem, as the stress this change produces on your jaw joints can lead to TMJ dysfunction, and wear down healthy teeth.
Using A Dental Crown To Restore A Chipped Or Cracked Tooth
A dental crown can be ideal for dental injuries. After it is placed, it can protect your tooth when you bite and chew, allowing you to go back to a comfortable, natural dental function. Its presence is also meant to protect your tooth from future damage, or infection. Of course, because we provide dental crowns made from lifelike materials, we can make sure that your smile is restored through treatment, too!
When Is Cosmetic Dental Work Effective For Dental Damage?
If there are concerns about the condition of your tooth, or your dental function, restorative dental work can be the appropriate response to your trauma. However, if the matter is only a problem for your appearance, you can look into using a cosmetic treatment to cover up harm. Cosmetic work will require less change to your remaining tooth structure, while making sure a chip or crack is naturally hidden. A porcelain veneer can be made to cover the front of your tooth, and give you back its natural shape. Dental bonding work can also effectively hide harm that has created trouble for your smile.
Talk To Dr. Browne About Restoring Your Chipped Or Cracked Tooth!
You should have a chipped or cracked tooth evaluated to make sure there are no potential oral health threats. At our Prairie Village, KS dental practice, Dr. Browne can talk to you about supplying the tooth with effective restoration. Our practice is also here to help if you would benefit from cosmetic dental work. To find out more, contact our office today at (913) 901-8585.