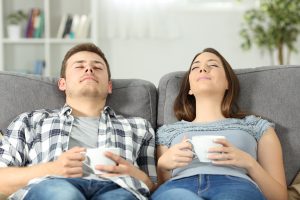 A good experience at the dentist is about the quality of care you enjoy when you walk out of the office, and the quality of your experience in the dentist's chair. At our Prairie Village, KS dental practice, we want to make sure you are happy during, and after, your visit! We provide a welcoming atmosphere for patients when they arrive, and we use modern technology to provide a comfortable, and thorough, review of their oral health. We also provide sedation for those individuals who struggle with anxieties about dental work. To make sure you leave the office feeling confident about your treatment, we provide lifelike dental restorations that can offer functional support while letting you preserve your smile's appearance.
Is Dental Anxiety Interfering With Your Ability To Seek Treatment?
For people with dental anxiety, a "good" experience at the dentist's office can be hard to even imagine. Because we understand that some people have trouble feeling at ease in a situation where they need smile care, we do offer dental sedation. With nitrous oxide, we can help you remain calm and comfortable while you undergo treatment. This can help you feel relaxed during a routine dental evaluation, or we can use a sedative to help you stay calm during restorative dental work.
Using Modern Technology To Care For Your Smile
Digital x-rays allow us to provide a thorough review of your smile, while making the examination process more comfortable. Because we use digital x-rays instead of traditional radiography, patients are exposed to significantly less radiation. The images captured with this technology make it possible for your dentist to recognize problems in their early stages, so something that might be wrong can be identified, and treated, before you start to experience uncomfortable symptoms.
The Right Restorations Can Offer Lasting Value
You deserve a dental care experience that allows you to feel confident about your smile care long after the work is performed. To help ensure patients are happy about the work they receive, we use modern restorations that are impressively lifelike. The dental fillings and dental crowns that we use to restore smiles provide great functional support in addition to keeping your smile unchanged, so you can continue to bite and chew food without any worries!
Find Out How Dr. Browne Can Ensure Patients Have Comfortable Treatment!
Dr. Browne is proud to offer impressive dental work in a warm and welcoming atmosphere! We are ready to help people in and around Prairie Village, KS enjoy superior dental work, and we can make sure you are comfortable whenever you visit us. If you would like to set up an appointment, if you have questions about your oral health, or if you wish to learn more about our practice, you can contact our office today at (913) 901-8585.