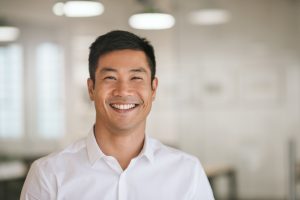 How close are you to showing off the smile of your dreams? For many people, the idea of a "dream smile" can seem out of reach, due to several flaws that hurt their confidence in the way they look. Even if all of these issues are minor, they may imagine that it will take significant time and effort to work through every issue they currently have with their smile. You can be excited to learn that with porcelain veneers placed by your Prairie Village, KS dentist, you can take care of all the problems that you currently have with the way you look. Once your veneers are placed, you can start showing off a smile free of all the conspicuous problems you once had with your appearance.
Can My Smile Flaws Be Fixed By Veneers?
Are you trying to hide blemishes that affect the color of your teeth? Would you like to hide chips in teeth that make them look misshapen? Do you have concerns about gaps or overlaps between certain teeth? All of these issues can be corrected when veneers are placed. Veneers are designed to cover up all of the superficial flaws that are a distraction for your appearance.
Creating And Placing Veneers Custom-Made To Deliver Your Best Results
During an initial appointment, your dentist will evaluate and measure your teeth, then do minimal preparatory work to make space for your veneers. The measurements that are taken will be used to produce veneers that are precisely shaped and sized to cover your teeth, while still allowing them to retain a natural appearance. Once these cosmetic shells are crafted, you will return to our practice to have them bonded to the front of your teeth. As a result of their placement, you can start showing off a stunning smile that is no longer hurt by the presence of noticeable flaws!
Let Us Help You Show Off Your Best Smile!
Our practice is proud to offer a range of cosmetic services, as well as restorative dental services, capable of renewing your confidence in your smile. In addition to offering veneers, we also provide dental bonding and contouring treatment, which can lead to similarly impressive results without the use of permanent restorations. If your goal is just to do something about accumulated teeth stains, you can undergo a professional whitening procedure to take care of them.
Talk To Dr. Browne About Receiving Porcelain Veneers!
Dr. Browne is proud to make great cosmetic dental services available to people in and around Prairie Village, KS! If you are ready to start showing off a smile that is no longer hampered by conspicuous flaws, we can talk to you about your treatment options. For more information, contact our office today at (913) 901-8585.